Updated: UK student killed in car crash, four injured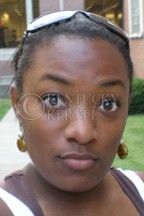 About a year ago, 21-year-old architecture junior Kiara Hinkle decided to change the way she was living and become a Christian. On Sunday, Hinkle was traveling to a church worship service with a group of friends when her car went out of control, and she was killed.
Gregory Campbell, president of the Lexington Campus Disciples, said Hinkle came to the organization when she realized she was not living her life according to God.
"She decided to change," Campbell said. "The Bible teaches us how to be as a Christian. She just led an awesome, righteous life after she decided to come to Christ."
Around 9 a.m., Hinkle, of Louisville, was traveling westbound on I-64 with UK engineering sophomore Jason W. Turner of Florence, 20-year-old Nikki M. Berry, 23-year-old Natya A. Stafford and 19-year-old Aubrey Barton, when her car went out of control and flipped several times, according to a Kentucky State Police news release.
The Franklin County Coroner pronounced Hinkle dead at the scene. Turner was injured and taken to UK Hospital, and Berry, Stafford and Barton were taken to the Frankfort Regional Medical Center.
Campbell said others could learn and be inspired from the way Hinkle lived her life.
"She's very giving … selfless, and her humility was just amazing," Campbell said.
One memory he will not forget of Hinkle was one when she cheered him up during a rough time, Campbell said.
"She said, 'when we hope, God says 'no,' but when we pray, God says 'yay,' " he said. "Just the way she said it, I'll never forget it. It was comical but it's just so true."
Campbell said Barton and Berry had been released from the hospital, and Stafford and Turner were still in the hospital as of early Monday afternoon.
Turner was originally in critical condition but was stable as of Monday afternoon, Campell said, and he was awake and able to squeeze his arm Sunday.
Mike Runyon, a family group leader at the Lexington Church, said Hinkle had a gentle, quiet spirit.
" … You could tell from her maneurisms she cared a lot," Runyon said.
Runyon said Hinkle sang with a women's choir group on occasion, which took her out of her comfort zone.
"Just anytime you would talk to Kiara or ask her to do something that maybe was a little bit out of her comfort zone, she would just give you a real big smile," Runyon said. " … Her eyes, they glistened quite a bit."
Hinkle's visitation will be held from 6 to 9 p.m. Thursday at the GC Williams Funeral Home, located at 1935 W. Broadway in Louisville, and the funeral will be at 11 a.m. Friday at the Louisville Church of Christ, located at 1201 S. Fourth St. in Louisville.