Staff trustee candidates to interact at forum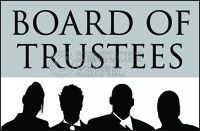 By Will Seiler
Campaigning for the staff trustee position on the Board of Trustees began March 29, and on Thursday the university community will have the opportunity to hear from the candidates firsthand.
The three candidates for the position, Michael Adams, Sheila Brothers and Jann Burks, will participate in an open forum in the W. T. Young Library auditorium to give students, faculty and staff a chance to hear the candidates' platforms and raise questions.
The staff trustee position is the highest office in the university-shared governance a staff employee can hold. The position lasts three years.
Robynn Pease, director of Work Life since 2007, has served as interim staff representative since July 2009. Her term ends June 30.
The role of the position is to remind the BOT where the UK staff stands on issues like competitive salaries, building expansions and plans to become a top-20 research university, Pease said.
Although students do not have an actual vote in the process, students should still be involved in the process in other ways, Brothers said in an e-mail to the Kernel.
"I think that knowledge is power, and the more you know, the more you can do," Brothers said in the e-mail. "It may be helpful to know which candidates have the best working relationship with Ryan Smith, the Student Government student representative to the Board of Trustees."
Burks said it is the responsibility of all members of the UK community to make the top-20 goal happen.
"Students and faculty need to come together to make us a top-20 university," Burks said. "We need to work together, which means we will serve all people in the Commonwealth, we will come together as staff, students and faculty to make this dream a reality."
Student involvement is important in the process because of the present tough challenging academic times, Pease said. The more students understand, the better they might understand what lies ahead, she said.
Adams was not available for comment.
The forum will take place Thursday at 1:30 p.m. at W.T. Young auditorium.
Primary election voting will be from April 21 to May 5. Results will be available May 10. The two candidates with the most votes will have a debate Thursday, May 13 at 1:30 p.m. in the W.T. Young auditorium.
General election voting will be done May 19 to June 2. Results will be available June 7.
Voting will be done electronically. Staff wishing to vote can click on the link on the Staff Senate Web site and use their linkblue account or UK ID number and birth date at http://www.uky.edu/Staff/Senate/elect/index.htm).