Hartline,"Operation Win" may not be perfect match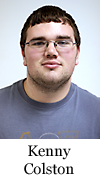 When UK head coach Joker Phillips took over the reigns of the UK football program earlier this year, he coined a catchphrase that would speak to everyone around the program — players, coaches and fans.
By now, we all know what that catchphrase is, "Operation Win," and how that winning is going to occur.
But I have a simple question for all involved: based on spring practice reports that senior-to-be Mike Hartline has separated himself from the quarterback pack as of now, can "Operation Win" be successful with No. 5 under center?
Hartline and the fans have had a rocky relationship thus far. As a sophomore, Hartline threw his teammates under the bus after losing his starting job. And he was booed from time to time for his play on the field.
In his junior year, the blame game ended, but fans still piled on Hartline, booing him multiple times. And during the one game in which he actually excelled, he suffered what amounted to a season-ending injury.
In his absence, sophomore-to-be Morgan Newton stepped up and led the Cats to away wins at Auburn and Georgia, a mighty feat for a freshman quarterback in the Southeastern Conference, much less one at UK.
The Cats have won with Newton at the helm. Yes, the offense was pared back in order for success to occur, as Phillips has acknowledged, but the fact of the matter remains — a win is a win is a win.
This year's offense will be more robust and have more depth when it comes to playmakers. Randall Cobb is a year older and Derrick Locke is back as well, so it won't matter how "pared back" the offense is.
Hartline has no such wins under his belt. In fact, against perennial SEC powers, Hartline usually performs at his worst. To his credit though, he was likely leading the Cats to a win at South Carolina before his injury occurred.
It seems in every practice, Hartline looks better, more qualified to be under center. But his play in games doesn't match up to his skill in practice.
Meanwhile, Newton may not practice at his best, but he still led a struggling offense up and down the field enough to win big games.
Which matters more?
Believe it or not, there is a natural skill that separates Newton and Hartline, or at least it does in the comparsions we've been able to make so far.
No, it's not an ability to read a defense (though that helps) or how quickly one digests a playbook (that helps, too).
The difference between Hartline and Newton is that one is a playmaker and one is not. When a defense has all options covered, Hartline will throw a ball out of bounds. Newton will tuck it for a 5-yard gain.
That's called making a play.
We saw the raw playmaking ability of Newton last year. In three years, we've yet to see it from Hartline.
Yes, Hartline has strong qualities. He knows the offense, he's familiar with the receivers, he doesn't take drive-killing sacks.
But he also hasn't displayed deep-ball arm strength, the ability to tuck the ball effectively and pick up yards when all receivers are covered or anything else that a strong quarterback needs to do.
It's not that Morgan Newton is perfect, but he gives the defense pause at quarterback. He provides another wrinkle Hartline doesn't.
Maybe No. 5 will show everyone that his last year as a Cat will be his best. But the reports out of spring ball aren't that Hartline is better. He's merely shown that in the spring, a four-year knowledge of the offense is paying more dividends.
But that doesn't mean that Hartline can be the lead in "Operation Win."
Not yet, anyway.
Kenny Colston is a journalism senior. E-mail [email protected]