Men's tennis focused on NCAAs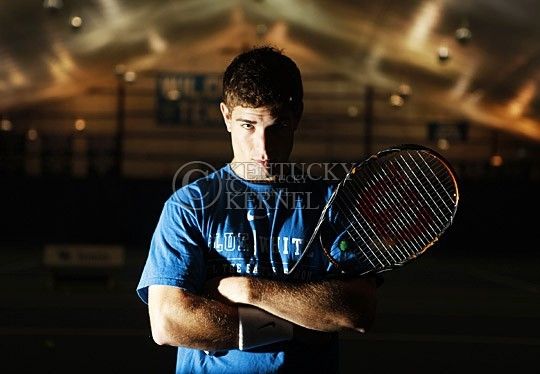 By Ethan Levine
With a top-10 ranking, home-court advantage and a first round bye, the last thing the UK men's tennis team expected to see was the two-time defending conference champions in the Southeastern Conference tournament. But that's exactly who they saw on the other side of the net when the Mississippi Rebels took the courts of the Hillary J. Boone Tennis Center. After a long, competitive match, the Cats fell to the Rebels 4-0. Along with the loss fell the hopes of a conference title.
"I thought the first time we played Ole Miss we were much more aggressive, both on the court and emotionally," UK head coach Dennis Emery said. "This time we let Ole Miss come to us. We didn't handle being the favorites well and that caught the coaches off guard."
Ole Miss began by sweeping both doubles matches, including taking down the nation's No. 25 doubles pair in Brad Cox and Eric Quigley. Quigley's luck didn't improve as the match transitioned to singles play. UK's top player, and the No. 13 player in the nation, lost for the first time in the month of April to Marcel Thiemann 6-4, 6-2.
"I can't speak for one of my guys, but I'm sure (Eric Quigley) was disappointed," Emery said. "One thing I love about Eric is he has so much character, and he has the ability to bounce back from losses well. So I know he will bounce back."
The 19th-ranked Rebels stayed on the attack in the other matches as well.
UK junior Brad Cox fell in No. 3 singles 6-1, 6-4. In a tiebreaker, UK's lone senior, Alex Lambropoulos, fell 6-2, 7-6 (7-2) in No. 6 singles to seal the Cats' fate.
"I don't know where the loss ranks in my career, but it certainly ranks outside of the top ten," 28th-year head coach Emery said. "I knew it would be a close match. You always want to win in front of your home fans, but I knew it was going to be a tough match for us."
Next for UK is the NCAA tournament, which begins on May 14. The Cats' will learn their tournament fate on May 4 when the entire field is announced.
While UK believes it will make the field, its tournament opponent and seeding are yet to be determined.  The goal is to reach the NCAA team championships, beginning May 21, and to send players from UK to the individual championships, beginning May 26.
Emery plans on using the Ole Miss loss as a teaching tool for his team, as well as a motivational tool to prepare his team for its biggest matches of the season.
"I think the loss was a good wake up call," Emery said. "We hadn't taken a loss in a while, having won 12 out of our last 13 matches going into the conference tournament. For us to win regionals and reach the final 16, we will eventually face a team similar to Ole Miss, and we can't let that team attack us like Ole Miss did. It's as good a learning tool as any, and it's better to have learned it now than to learn it at the NCAAs."