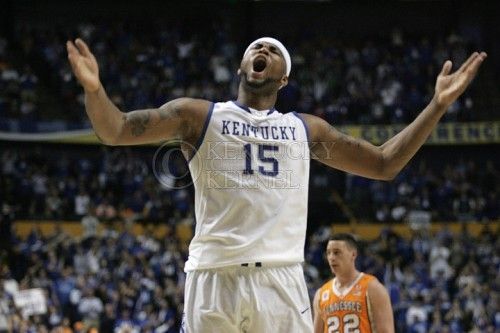 DeMarcus Cousins picked an agent last week. On Thursday, he spoke to the media about his time at UK, being accepted for the first time in his life and his future in the NBA.
After signing a National Letter of Intent with the Cats on the first day of the spring signing period in 2009, Cousins – or "Boogie," as many fans know him – has been welcomed with open arms, and he said his decision to turn pro was not an easy one.
"The people here, the coaching staff, it was just easy to adjust," Cousins said. "I've never been accepted like this, no matter where I was. Everywhere here just felt like family."
In his first game with the Cats, he recorded a modest seven points and four rebounds in 18 minutes of action before fouling out. He learned quickly, however, scoring in double digits in 26 of his next 28 games and setting a UK freshman record for most double-doubles in a season with 20.
By the end of the season, Cousins was named Southeastern Conference Freshman of the Year and a first-team All-American by the Associated Press.
"I've proven myself this year, and right now my stocks are high and I believe this is the time for me to go," Cousins said.
DraftExpress.com, a professional scouting service written and designed by a group of dedicated basketball analysts with a passion for the game, as described on their Web site, has Cousins projected as the No. 3 draft pick this summer. It should be noted, however, that because the order in which teams will draft has not yet been decided, team needs are not taken into account in current mock drafts.
Still, despite being projected as one of the top picks in the draft and having endorsement deals and millions of dollars waiting for him, Cousins said his decision to leave UK for the professional ranks was not an easy one, but one he had to make because it was "his time."
"The love here, I mean I didn't want to leave this place," Cousins said. "I could stay here forever. I have so much love for this university (and) I just want to stay here and help the team to just keep winning."
Cousins is finishing up the spring semester now and is working on losing weight and adding muscle to his 6-foot-11, 270-pound frame. He said he will still stay close to the university and come back often.
Cousins' agent, John Greig, a Seattle-based agent whose current clients include NBA Development League players and European players, was in attendance at the news conference. Cousins said his mom found him, and to him. it wasn't too hard of a process.
"Agents do what they do. They find you," Cousins said.
Cousins' emotional style of play drew concern from some NBA scouts, and being labeled as an emotional player continued throughout the season even though he walked away from numerous confrontations when other players tried to provoke him. Looking back on the season, Cousins said he thought he grew up a lot, passing some tests and failing others.  And he said players who choose to come to UK will love it.
"I'll never forget this part of my life," Cousins said. "This is probably one of the most precious times I've ever had. Like I said, I've never felt accepted like this. I just felt love from day one."
Cousins, Krebs sign autographs at Kennedy Book Store
Fans lined up around Kennedy Bookstore late Thursday afternoon with items in hand to be signed by UK freshman forward DeMarcus Cousins and senior guard Mark Krebs.
"We sold out of the balls, we sold out of the Cats' Pause yearbooks, the SEC T-shirts we put on sale, we about sold out of them too," said Carol Behr, general manager of Kennedy Bookstore.
It cost $20 to get a signature from a player if someone brought in an outside item with a percentage of the proceeds being donated to charity. Twenty percent of whatever was sold inside to be autographed was also donated to charity. Workers at Kennedy Bookstore estimated 230 people came in the two-hour window made available from about 5:30-7:30 p.m.
"It shows how far we've come in the last couple years because I don't think we would have had a showing last year," Krebs said. "We had a great year this year, it shows how much people do love us around the state and how much of a good team we were and how much people looked up to us which is really good and that's what you always want, to be good role models."