Songs keep baseball in tune to win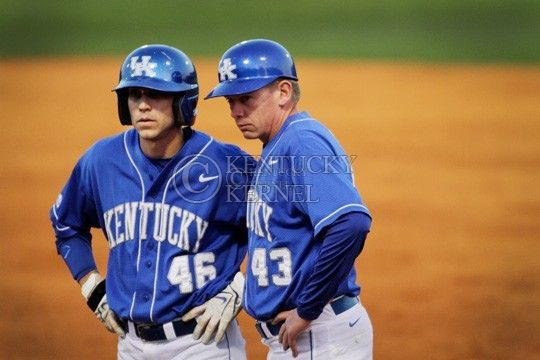 They are the soundtrack to singles and strikeouts, foul tips and fly outs, bunts and bloopers, grand entrances and grand slams.
They are the walk-up songs, accompanying each batter as he strolls toward the batter's box and each pitcher as he jogs toward the mound to fight for any one of the aforementioned results. Each individual player gets to pick his own song.
From Drake to Randy Houser, bumping bass to twangy tunes, the song represents the player each time he plays, like his uniform number. It is a part of a player's identity and in baseball, the most individual of team sports, that counts for something.
"There's more thought than there probably needs to be going into these songs," reliever Nick Kennedy said. "But you look for something that defines you as a player and a person. There's actually a lot of thought and preparation that goes into it."
A player can choose a certain song for a variety of reasons.
Senior outfielder Keenan Wiley chose Randy Houser's "Boots on" to be his personal soundtrack at the plate.
"It's kind of a picture of me, kind of how I grew up," said Wiley, a Richmond, Ky., native.  "It reminded me of where I came from."
Representation of a player's hometown is a common theme. Kennedy, of Los Angeles, uses "California Love" as his backdrop to entering a game.
"'California Love,' is a little tribute to my home state," Kennedy said. "And it gives love to L.A. It ties back to my roots. It just felt right when I heard it."
For others, the decision is less a reflection of their life and more a reflection of their musical tastes.
"I picked mine because I like it," said Andy Burns of his song, DJ Khaled's "All I Do Is Win." "It's just a cool song."
However, Burns' choice has developed into something more than a personal playlist. Members of the UK baseball staff have tried to create an "Andy Burns dance" that plays off the lyrics — when the song says, "everybody's hands go up," well, everybody's hands go up — to varying degrees of success.
"I heard that was going on at one point," Burns said.  "I'm guessing it's nowhere close to the John Wall dance."
While it may not have developed into a campus-wide sensation just yet, Burns said the song did play a part in the habitual part of baseball. A slump can mean hitting the next-track button.
"If things are going bad, the song is one of the first things to go," Burns said.
"I've had a good year with my song. Why change it?" Wiley said.
Perhaps that is the key to the importance of the walk-up song. It doesn't imbibe the player, or his bat, with any added superpowers. It doesn't add extra miles per hour to a pitcher's fastball. But in an environment as ritualistic as that of a baseball clubhouse, the song is one of those constants that just needs to be there.
And on the road, where walkup songs are not played for visiting teams, the silence can break the ritual.
"I hear my song when I'm pitching at home," Kennedy said. "Just to keep the habit going, I listen to my song on my iPod just to remind me it's there. Having it there is just something that completes the routine."
But even if performance were faltering, Burns would be wary of changing his tune.
"I've had a couple new ideas for songs," Burns said. "But I don't think the fans would like it too much if I switched it up."