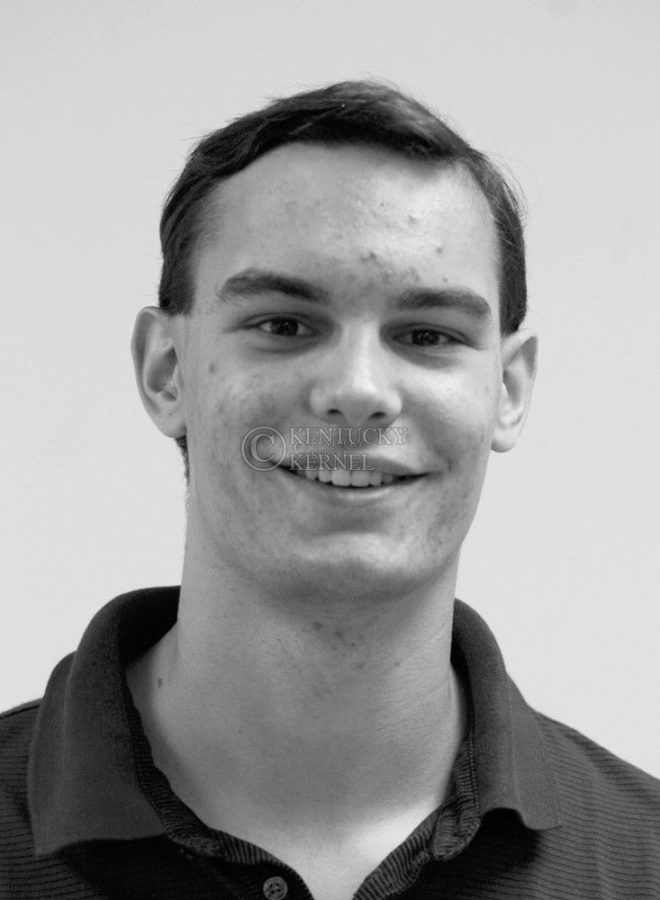 Column by Timothy Kroboth
I was making a mistake.
"Hey, uh, Keeneland, seventh race, $2, show, on No. 4."
And I am not just referring to my bet on the 42-1 long-shot Afternoon Stroll.
I should have been in W.T. Young Library studying on that Friday afternoon.
Ever since returning to UK from Spring Break, I had been continually lamenting how overwhelmed I was with schoolwork and that I did not have time to do it all.
And yet, there I was this past weekend, throwing away my money at Keeneland's thoroughbreds. Keeneland's charm had seduced me.
But can you blame me?
In less than a month, my study abroad experience at UK through the National Student Exchange program will conclude, and I will return to my home institution, Winthrop University in South Carolina.
Before returning to Winthrop, I don't want to miss out on the unique activities UK and the Lexington area have to offer.
Where I am from in the Carolinas, there is no horse racing. My NSE experience at UK in the Horse Capital of the World is my only opportunity to enjoy fully the unique culture of horse racing.
Dodging daintily dressed Keeneland patrons, I waded my way through the crowd from the betting window toward the track just as the seventh race was set to begin. The gun sounded and Afternoon Stroll bolted out of the gate to the front. Would my long-shot wager pay off?
As a horse race novice, my betting strategy wasn't exactly scientific. I had picked the filly for one simple reason: her trainer and I share the same first name. Only later did I discover that the day before, Afternoon Stroll had pulled off a major upset as a 50-1 long-shot.
But as the fillies rounded the final bend, Afternoon Stroll looked as if she were more interested in taking an afternoon stroll than a run, en route to finishing next to last.
My second wager choice, Chapel of Love, fared similarly in the next race: starting off well and hanging around at the front of the pack, but then fading down the stretch. What can I say? I am no expert gambler, only an exchange student trying to soak in Kentucky's culture.
Spending a few hours at Keeneland would not have been so bad if my excursion to the races had been the only extracurricular activity I indulged in last weekend. But I was not interested only in horses.
The No. 24 Alabama Crimson Tide baseball team visited the Bat Cats at Cliff Hagan Stadium, UK football played in an intra-squad scrimmage open to the public at Commonwealth Stadium and Memorial Coliseum hosted the NCAA Central Regional Championship in gymnastics. As a true sports junkie, how could I resist?
Unquestionably, Winthrop University is a wonderful school for academics. Small classes and helpful, accessible faculty make for an excellent learning environment.
However, another reason why being a good student is easy at Winthrop is that there is not much to do on or near campus on the weekends instead of studying.
Winthrop's campus activities programming board has consistently earned recognition as one of the best in the country, but Winthrop lacks a football team and its existing NCAA Division I teams compete in the obscure Big South Conference.
And even when the Winthrop Eagles reach the Big Dance, their appearances are often short-lived. In this year's men's basketball NCAA Tournament, the Selection Committee relegated the Eagles to the play-in game, where they lost by 17 to Arkansas-Pine Bluff.
At UK and in the Lexington area, however, sporting events are abundant, even after basketball season has ended. I am envious of students who have four years to enjoy UK athletics and Keeneland. So, I am making the most of my remaining time at UK as an NSE student from Winthrop.
Don't take your time as a UK student for granted.