Lecture to educate students on Ky. culture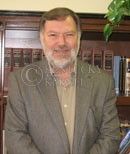 The name Kentucky comes along with numerous stereotypes, and the keynote speaker of Arts & Sciences AweSome Week will discuss the facts surrounding those stereotypes Wednesday.
History professor Ronald Eller will give a lecture titled "Hillbillies, Horses & Hoops," discussing inequalities in the Appalachian region, the horse industry and basketball, said Mary Beth Johnson, co-coordinator for the Arts & Sciences student ambassadors.
Eller, a descendent of eight generations of Appalachian Kentucky, will give special perspective to the topic in his lecture. Arts & Sciences student ambassador Falon Thacker asked Eller to be the keynote speaker after taking one of his classes at UK.
"Dr. Eller is an outstanding historian, speaker and highly respected for his research," Thacker said.
Eller holds a Ph.D from the University of North Carolina at Chapel Hill and is widely known as a scholar of Appalachian history and the study of rural economic development and social change, according to UK's Department of History Web site.  He has published more than 60 articles and reports but is most known for his award-winning book, "Miners, Millhands and Mountaineers: The Industrialization of the Appalachian South."
Students who attend can expect to discuss the many stereotypes associated with living in Kentucky, Thacker said.
"Whether everyone here is from in-state or out-of-state, we are all connected to Kentucky by going to school or working at UK," Thacker said.
Eller said each year students approach him who have been negatively labeled and stereotyped by fellow students, faculty and the media.
"Such stereotypes are usually more grounded in political, racial, economic and social injustices than they are in any cultural reality," Eller said. "Understanding the politics behind stereotypes should be an important part of a liberal arts education.  The many stereotypes of Appalachia provide us with a window to that knowledge."
Johnson said the lecture could teach people more about Kentucky culture.
"Many people may be surprised to find out certain qualities or opinions of Kentucky that they were previously unaware of prior to the lecture," Johnson said.
The lecture is at 7 p.m. in room 209 of the Main Building. The event is free and open to the public.