Student aims for real rocky top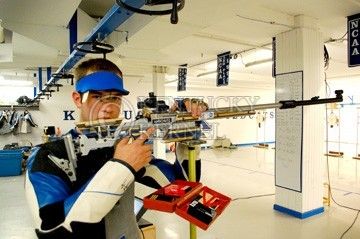 Inhale. Exhale. Stop. Click. Boom.
Tom Csenge pulls back the bolt and a smoking exhausted shell hurls out and bounces on the floor of the shooting range. He loads another bullet, pushes the bolt back into place and takes his aim.
Inhale. Exhale. Stop. Click. Boom.
He has gone through the motions since he was 10 years old, but he still takes his time setting up.
"My strategy is to rely on my training," Csenge said. "A lot of stuff goes through my head. I just focus on the simple task of what I'm doing, and mentally break it down into simple steps."
Those simple steps will be taking this student from the UK rifle team to one of the greatest heights in competitive rifle marksmanship; the USA shooting team in Colorado Springs, Colo., located at the U.S. Olympic Training Center.
After crossing the stage in May for his degree in geology, Csenge will pack up and head into the Rockies as a resident athlete.
"I'm not really nervous," Csenge said. "I've been going out there for year. I know a lot of the people, the coaches and the staff."
Since 2001, Csenge has been traveling back and forth from Colorado as part of the USA junior team and USA national development team, both of which are designed to prep shooters for the national team and the Olympics.
Csenge is no stranger to national or international competitions. He's been to Germany and the Czech Republic and all around the U.S. Csenge was in the 7th grade when he participated in his first Jr. Olympic Games.
Since then, he has competed every year, until his junior year of college, when he turned 22.
Csenge said he started shooting because his father was an avid hunter. After getting in with his local shooting club in his home state of New Hampshire, Csenge started competing in the greater New England Area.
He left his friends and family in New Hampshire behind when UK offered him a scholarship, and now, he is heading farther west from the man who inspired his life journey.
But he isn't just moving away from his family on the east coast. He's leaving his coach and a young group of shooters here at UK.
"I think it is good to pursue the thing that he wants to do," said James Jasis, a civil engineering freshman. "He has the drive to do it and definitely the talent to do whatever he wants."
"Earning a spot is very, very hard to get," rifle team head coach Harry Mullins said. "He's our equivalent of John Wall or DeMarcus Cousins going pro."
Mullins said he was excited for the great opportunity for Csenge and senior Ashley Jackson, who will be a resident athlete in Colorado Springs for USA shooting as well.
"In rifle, there are only four to five draft picks from each class. We have two coming from out program." Mullins said. "I'm excited, but I'm also sad because it means they are leaving us."
The pair has done a tremendous job with the rifle program the past four years, Mullins said, but he wishes he could have sent them out with a national championship.
"Hopefully we are changing the culture here," Mullins said. "We couldn't be happier with their success in college. It makes us feel good that we had the right people here to help the program continue on."