Fraternity finds new home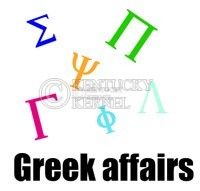 A UK fraternity has found a new home.
Delta Sigma Phi found out Wednesday the organization will move onto campus next year. This will be the first house the chapter has had at UK since the Theta Mu chapter was founded in 1996.
The fraternity will move into the former house of Sigma Kappa sorority.
When the house became available, Auxiliary Services sent out invitations to several organizations to apply.
Ben Crutcher, associate vice president for Auxiliary Services, said a seven-person committee was formed to review the portfolios each group prepared.
"The criteria we used in the evaluation were strength of membership, local alumni, national and international support, chapter financial strength, University of Kentucky affiliation and performance, and any other information they wanted to offer," Crutcher said.
Four groups petitioned for the house, but Delta Sig received the house because it had the strongest portfolio, Crutcher said.
UK's Delta Sig chapter has had numerous accomplishments, including having the largest Delta Sig pledge class in the nation in 2008, having several members serving on Student Government, ranking fourth in intramurals this year and having 17 students with a 4.0 last semester, said Delta Sig member Ryan Pease.
Delta Sig President Jack Newton had nothing but praises to sing about the support the chapter received from everyone.
"We've always appreciated Sigma Kappa for letting us rush out of their house in past years," Newton said. "Our alumni have helped us out immensely in the process to get the house, and we would not be where we are as a fraternity without their support.
"All of our members have worked hard to build our reputation on campus, and it is paying off. I'm mostly excited for the younger guys who get to enjoy having a fraternity house for most of their college years."
Delta Sig member Drew Cloud is among the excited members who hope to live in the house next year.
"Our fraternity has a bond, and we all care about each other, but having a house to hold meetings in, live together in and conduct all fraternity affairs in will make us even closer," Cloud said. "I am ready to see where our chapter will go now."