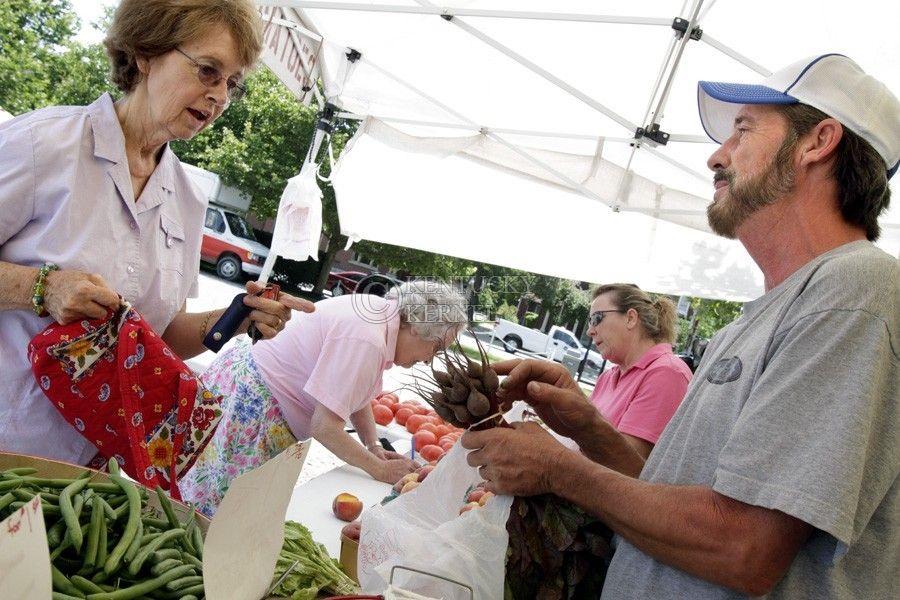 By Eva McEnrue
Customers and vendors of the Lexington Farmers Market have taken keenly to its new Saturday location at the Fifth Third Bank Pavilion in Cheapside Park. The new pavilion holds the Farmers Market on Saturdays from 7 a.m. to 3 p.m., replacing the old
site on the corner of Maxwell Street and South Broadway.
"The pavilion creates a new space for the market," said Sarah Buzogany, assistant manager of the Lexington Farmers Market. "The sight of the pavilion helps the public to remember the Lexington Farmers Market when they pass. It is a more legitimate and accessible location."
The Fifth Third Bank Pavilion can accommodate 28 farmers on market day. Farmers sell a wide variety of fresh, local products that range from spring greens, lettuce, fresh fruits and vegetables, fresh meat and poultry, various herbs, flower and vegetable bedding plants, raw honey, bread, olive oils and jams.
"The new location has a better ambiance," said Ed Raggard, a farmer at Raggard Creekside Farm and vendor at the Lexington Farmers Market for 31 years. "It's getting better all the time."
The glass pavilion covers approximately 5,700 square feet and sits on granite pavers. The pavilion has a metal roof and is cooled with fans donated by Big Ass Fans. The park has permeable pavers that decrease the amount of storm-water run-off by allowing water to pass through.
"Cheapside Park provides electricity, water, public bathrooms and better scenery," said Abigail Keam, a beekeeper who has been selling honey products at the Lexington Farmers Market since 1999. "The pavilion is more pedestrian friendly and more interesting."
The pavilion is part of Mayor Jim Newberry's effort to transform the Lexington downtown area through improvements to the streetscapes and the renovation of Cheapside Park.
The Fifth Third Bank Pavilion officially opened April 16. Fifth Third Bank Central Kentucky President and CEO Sam Barnes,
Newberry, council members and representatives of the Downtown Lexington Corporation, businesses and the Farmers Market joined together at the ribbon cutting ceremony.
The Fifth Third Bank Pavilion will be the location for the Farmers Market on Saturdays, along with art shows and festivals, Thursday Night Live and other events throughout the year. The Lexington Farmers Market also has locations on Southland Drive on Sundays from 10 a.m. to 2 p.m. and at Maxwell Street and South Broadway from 7 a.m. to 4 p.m.