Payne completes UK's 2009-10 men's basketball staff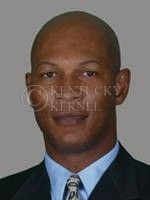 Kenny Payne has joined the UK men's basketball coaching staff as an assistant coach, head coach John Calipari announced on June 18.
Payne, a former standout at the University of Louisville and assistant at the University of Oregon since 2004, has played for 10 professional basketball leagues, most notably a four-year period with Philadelphia 76ers.
His 11-year professional career allowed him to play in nine different countries and on five different continents. He was a first-round pick in the 1989 NBA Draft, going 19th overall.
"I feel fortunate and honored to have an opportunity to coach for one of the hottest and best coaches in college basketball at one of the premier programs, both historically and today, in all of college basketball," Payne said in a UK Athletics news release. "I look forward to being a part of the team, growing as a coach and learning from one of the best, while helping Kentucky win a national title."
Former Cat Morgan named distance coach
Former UK student-athlete and Southeastern Conference cross-country champion Thomas Morgan has been named Kentucky's assistant track and field coach for distance events, head coach Don Weber announced June 22.
"I consider it a great privilege to return to the institution that provided me so many opportunities, both athletically and academically," Morgan said in a UK Athletics news release. "I am looking forward to providing that same opportunity to the current student-athletes and fostering an environment of success."
Morgan joins UK after five years with Zap Fitness Foundation, Inc., as a professional athlete and staff member. While at Zap Fitness, he traveled to many competitions, taking five trips to Europe where he was able to meet influential members in the track and field community.
While at UK, Morgan was a two-time All-American for his performance in the distance medley relay in 2001 and 2003. He was also a five-time All-SEC performer and a seven-time NCAA Championship qualifier.
Morgan graduated from UK in 2003 with a Bachelor of Business Administration in Finance and in 2005 with a Master of Business Administration.
— STAFF REPORT