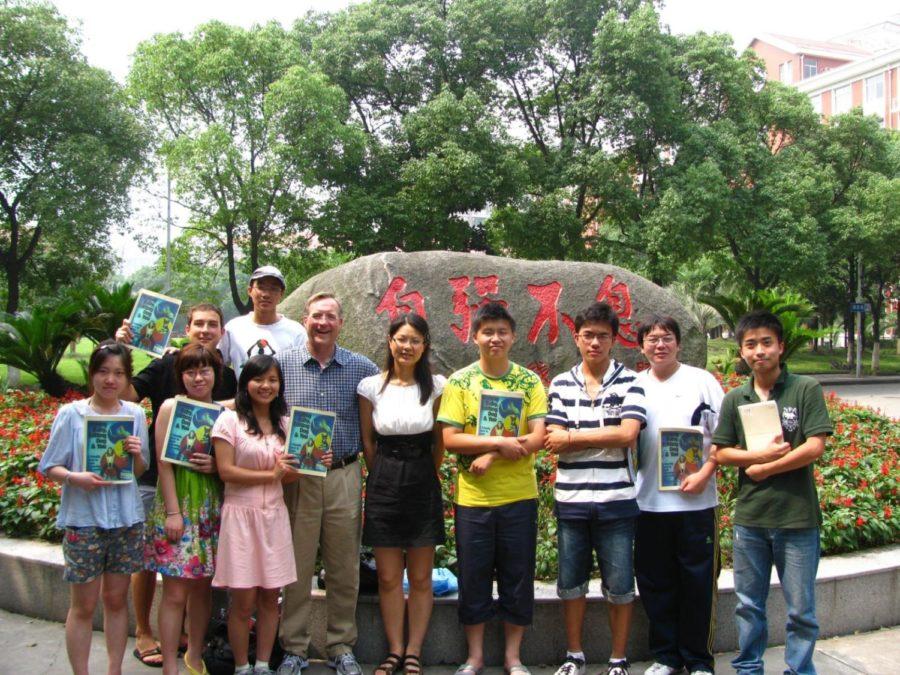 SHANGHAI, China — When Shanghai University journalism students were challenged to create a new magazine for young people in China, they turned their attention to fashion, computer games, the World Cup and Nirvana's Kurt Cobain.
That was the first-day surprise for UK journalism professor Buck Ryan, who spent three weeks this summer teaching two courses, "English News Editing" and "English Reporting & Writing," to more than a dozen students from Shanghai University's Department of Journalism and Communication in the School of Film and TV Art & Technology.
Ryan, who serves on UK's Asia Center steering committee, visited China for the first time on Spring Break along with a UK delegation who met with Shanghai University officials to celebrate the approval of a new Confucius Institute, a cooperative agreement between the two universities funded by the Chinese government.
Although the institute does not focus on journalism, but rather teaching Chinese language and culture, doing community educational outreach and studying fine arts, Ryan and Shanghai University journalism chairwoman Yonghua Zhang (pronounced young-WAH-jong) set the tone for collaboration by arranging the summer courses.
"The original idea was for me to bring a few outstanding UK journalism students with me to China," said Ryan, who proposed the collaboration to SHU Vice President Song Wu over dinner in Lexington in early December. "I still hope to do that in the future now that I know the possibilities."
One of his SHU students, Hannah He, said her class with Ryan was "like breaking into a forest," prompting allusions to fresh air and the symbolic tree of learning. Another student, who took the English name of "Rock," said the class was like "going to a banquet."
Ryan explained that his teaching was a "high-wire act worthy of Shanghai Circus World" because of the language and cultural barriers.
"My students were amazing," Ryan said, explaining how they would take notes and occasionally go to their cell phones or computer screens to look up English-Chinese translations as he lectured and showed them PowerPoint slides or videos.
"On the first day of class a few students showed up early to meet me," Ryan said. "A few students showed up late because of heavy traffic and rain, and one student asked for an excused absence to work as a volunteer for the World Expo," Ryan said. "Shanghai University provided 8,000 student volunteers to the World's Fair, which represented a record 189 nations and drew more than 480,000 people a day. It was a great time to be in Shanghai to witness history."
Ryan made history in his own way serving as the first journalism professor in residence at SHU from UK, teaching twice a day for a total of four and a half hours four days a week from June 29 to July 16. His guesthouse was a two-minute walk from his classroom and a three-minute walk to his office.
"My teaching assistant, a young journalism professor named You You, made the best move of the summer when she changed my classroom to an air-conditioned computer lab," Ryan said. "Shanghai is known for heat and humidity in the rainy season of summer."
SHU journalism professor Hui Shen (pronounced WAY-shun), who attended a couple of Ryan's lectures, called his work "excellent" and praised his teaching in a meeting with Shanghai University leaders last week.
Ryan brought with him "Writing Baby, Editing Dog & You: A friendly place to begin improving your writing" as the textbook for the class, and SHU published a special edition for the students. Ryan said his class agreed the next edition should be called "Writing Baby & Editing Panda."
One student questioned whether his second- and third-year classmates were "too young" to take journalism classes all in English, from lectures to reading and writing assignments.
"If you never try, you will never know at what level you are," Zhang told him while being interviewed in one of Ryan's reporting classes.
"This is just the beginning," she told the class, looking forward to student and faculty exchanges with UK in the future.
"I was surprised that a dead alternative rock legend would show up on my first day of teaching in China, " Ryan said, "but I guess music, like teaching, are universal experiences."