Campaign Empowers Individuals to Make a Difference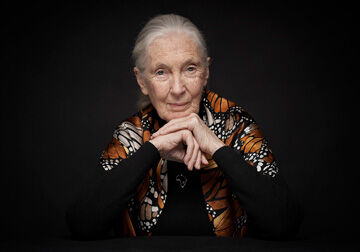 (NewsUSA)
– -Despite the steady stream of bad news, from politics to the pandemic, many aspects of society are more connected, peaceful, and advanced than ever. It is human nature to want to do good, and a new empowerment campaign supports the collective power of the individual and encourages everyone to be a force for good and make a difference in the world.
The nonprofit Force for Good Foundation is launching the "I Love This Planet" campaign on January 12, 2022, with a billboard in New York City's Times Square that starts a 100-day countdown to Earth Day 2022. The Times Square billboard features renowned primatologist and United Nations Messenger of Peace Jane Goodall, who makes her pledge as follows:
"I love this planet, and commit to continue doing everything in my power, as a force for good, to make the world better for all of us, people, animals and environment," Dr. Goodall says.
"The most powerful force for good in the world is each individual in their many roles as children and parents, spouses and friends, employees and employers, leaders and followers," says Force for Good chairman Ketan J Patel.
"Empowered by the will to do good — and the fact that the individual begins with two thirds of the world's capital — makes the fully aware, responsible and compassionate individual the most powerful force to make the world better," he emphasizes.
"As a couple of billion people are connected to the world's financial systems through fintech, their choices will be felt, and these need to be a powerful force for good if the world is to address the challenges we face," says Jonathan F Miller, Director, Force for Good, former Chairman and CEO of AOL.
Research from Force for Good shows that individuals own two-thirds of the world's money, and consumes 80% of the world's total consumption. The empowered, caring, and compassionate individual can make the biggest difference to changing the world for the better, and can move governments, corporations, and financial institutions to do the same, to create a safer, fairer, and healthier world, according to Force for Good.
The "I Love This Planet" campaign is an opportunity to host a common pledge to do good for each individual. The website and campaign will be developed to provide the place, tools, and partners for doing good and making a global impact.
Visit ilovethisplanet.org to make your own pledge and commit to being a force for good in the world.