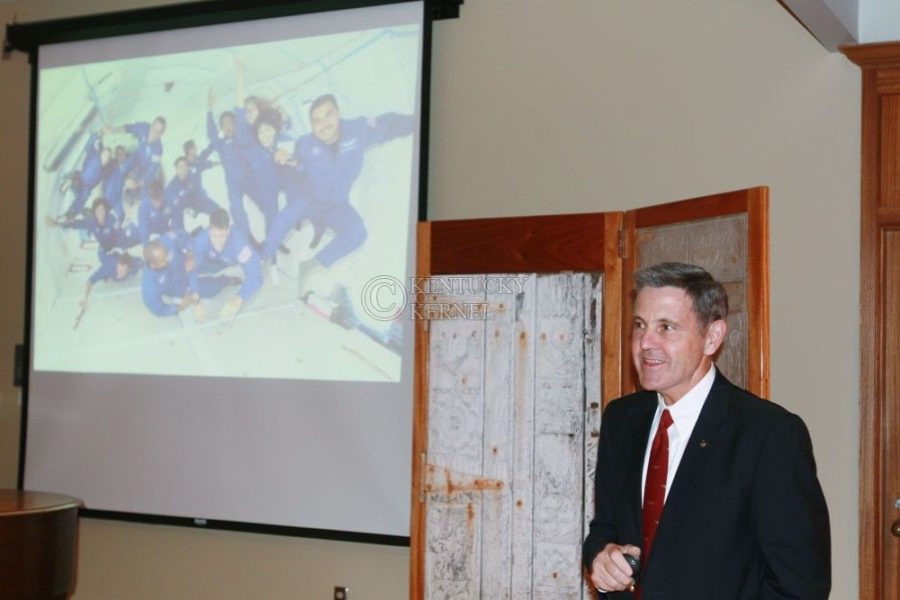 By Brian Hancock
A UK graduate student is one of 20 in the nation to receive an award that will launch his dreams into space.
Edward Brady Doepke, a mechanical engineering graduate student, was chosen for the Astronaut Scholars Award based solely on merit by the Astronaut Scholarship Foundation.
Wednesday afternoon, Kennedy Space Center Director Robert Cabana presented Doepke with a $10,000 scholarship. UK was one of 20 colleges to have a student receive the award.
According to their website, The Astronaut Scholarship Foundation is a nonprofit established by the six surviving members of the U.S.' original Mercury astronauts.  The mission of the program is to help the U.S. keep its world leadership in science and technology, providing scholarships to college students who have exceptional performance in these areas.
"The students who receive these awards are really making a name for themselves and doing good things," Cabana said.  "Brady is an outstanding scholar and is doing some wonderful work."
Doepke researched inflatable wing structures while at UK, and said it was an honor to receive the award and to have Cabana at the presentation.
"A lot of great individuals have won this award before me.  I'm in great company," Doepke said.
Doepke said he did a lot of other research early on, including while an undergraduate, to receive this award. He also landed several internships and co-op positions, including with NASA.
"I would encourage everyone to get involved with these kinds of things early on," he said.
Doepke said upon completion of his masters, he plans to continue his education or enter the work force. He hopes to one day work for NASA.