Cats finish up road game swing at Tennessee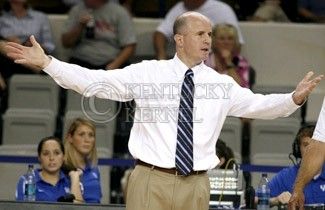 The Cats are headed to Rocky Top to end a three game Southeastern Conference road trip against the rival Tennessee Volunteers.
The Cats split their first two matches on the trip, losing at Auburn on Friday night, but winning at Georgia on Sunday. UK (8-6, 2-2 SEC) now faces it's toughest road test yet in Knoxville against the No. 19 Vols (10-3, 2-2).
"We have no worries about getting ready for the match," UK head coach Craig Skinner said. "We had two great matches against (Tennessee) last year and learned a lot about ourselves."
UK began its road trip with a visit to Auburn. After taking a commanding two sets to one lead in the match against the unranked Tigers, UK failed to cement the victory, losing a heartbreaking fourth set and then dropping a dramatic fifth set that went down to the wire. The loss was a tough one for the Cats to swallow, but they tried to remain optimistic going forward.
"We made way too many errors, and certainly didn't play well," Skinner said. "But we were still in a position to win. That says a lot about our team this year."
After Auburn, the Cats traveled down to Georgia to take on the Bulldogs. UK seemed to be out of rhythm to start the match following the Auburn loss, dropping the first two sets and being pushed to the brink. But the Cats responded in a big way, coming back to win the last three sets and the match.
"We had leads in the match and we blew them," Skinner said. "Our starters needed to step up and they did. We changed the line up around a little by getting players like Gretchen (Giesler), Christine (Hartmann) and Jessi (Greenberg) into the match, and got the job done."
A big reason for the Cats comeback win was senior Blaire Hiler, who led the team with 18 kills and commanded the net defensively all match.
"We expected (Blaire) and all the seniors to step up for us on the road," Skinner said. "She and (Lauren) Rapp had a big day at the net and it helped carry our team to a victory."
Now, the Cats prepare for Tennessee, who won both of the matches between the two teams a year ago. They lost at home to Tennessee in four sets when the Cats were ranked seventh in the nation, and then lost in Tennessee in five sets to end their regular season. The Cats were in contention in both matches and are certainly not intimidated by the highly ranked Volunteers.
Playing a ranked team on the road is always a challenge, but Skinner and the players are confident that they have the ability to win under the circumstances.
"We have had our share of tough matches and of five set matches already this season," Skinner said. "We just need to iron some things out in practice this week and we will be ready."