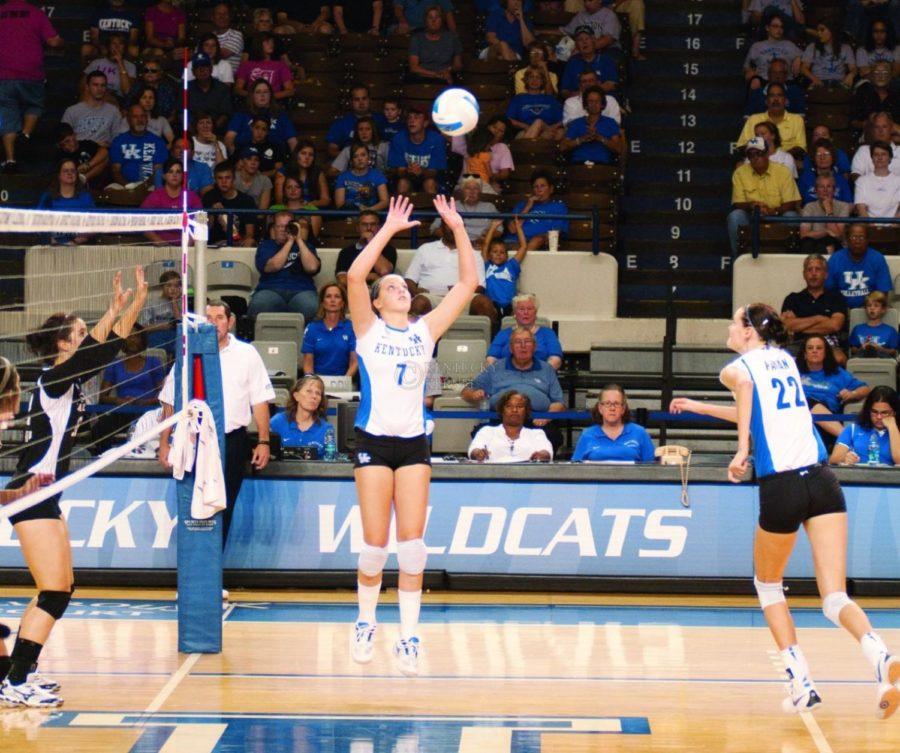 The UK volleyball team will take its show on the road for the first time in Southeastern Conference play beginning this weekend.
The team travels to Auburn, Georgia and Tennessee, and will visit three states in six days.
"The team is looking forward to it," UK head coach Craig Skinner said. "Auburn has had some good wins so far this year, so we need to show up for the match ready to go. The team has practiced well all week and I think we are ready."
UK (7-5, 1-1 SEC) has only left the friendly confines of Lexington twice so far this year, and has come back empty handed both times. They began the season participating in the AVCA Showcase in Omaha, Neb., in which they dropped both of their matches.
One week later they traveled north for a match against the Cincinnati Bearcats, which they also lost in five sets. Last season, UK lost only two road games all season, one of which was to Tennessee, where the Cats will be next Wednesday night.
Through a third of their season in 2010, they have already dropped three road matches, and have ten more ahead of them in conference play. But the Cats don't plan to adjust their approach to matches as a result of early season struggles, and will instead stick to their usual gameplan.
"We don't approach things differently whether we are at home or on the road," Skinner said. "Our focus is really on Auburn right now, and getting our minds on executing. We only try and control the things we can control and to not worry about the things that are out of our control on the road."
But with every dark cloud there is a silver lining. Despite the challenges the upcoming road trip presents the Cats with, it also serves as an opportunity to make a big statement in the midst of a rocky season thus far. Yet the Cats aren't looking ahead in their schedule just yet, and have remained focused on the task at hand this weekend.
"We can't jump ahead and start talking about any games ahead of us," Skinner said, "because every match in the SEC is tough. Right now we are focused solely on Auburn, and after that match we will focus solely on Georgia."
Unlike their two previous road trips, however, the Cats will not be making camp in one spot. UK has three games in three different states in a matter of only six days. That kind of traveling could potentially take its toll on the young and inexperienced Cats, who have very little road experience. But young or old, the Cats will be traveling as one team and will be ready to play when they take the court this weekend.
"There's no magic way to go about getting the team ready," Skinner said. "The team has good chemistry, they enjoy being around each other. The road is a good time to focus on ourselves and each other, and I think all of our players will benefit from that."