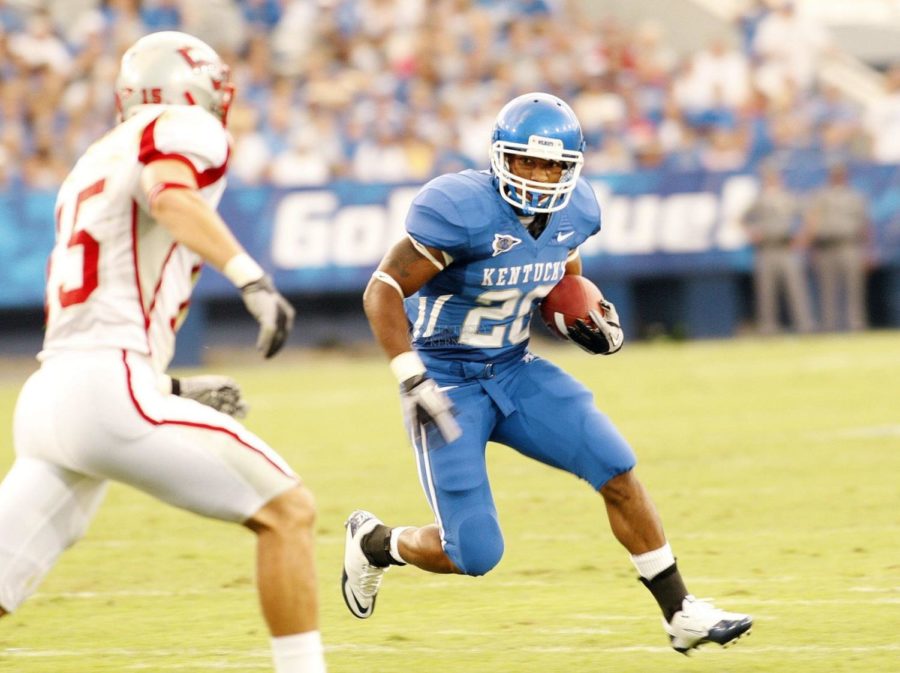 Sixty-three yards are all that separate Derrick Locke from joining elite company.
UK's senior tailback has compiled 1,937 rushing yards in his career, good for seventh on UK's career all-time rushing list, and when he most likely gets to the 2,000-yard plateau he will become the sixth player in UK history to have reached that milestone.
()
"I'm not even thinking about the 2,000 yards now, I just want to get my 1,000-some yards for this season," Locke said. "I saw that I was close to (the milestone), and eventually I'll get it."
Specifically, Locke said that his personal goals for this season include rushing for about 1,300 or 1,400 yards and 20 touchdowns.
Locke became the first UK tailback since Rafael Little in 2007 to run for consecutive 100-yard games when he surpassed 100 yards in UK's two games this season.
Locke is on pace for 1,236 yards by the end of the regular season, which would see him fall 29 yards short of Little for third place on UK's career all-time rushing list, a notable feat considering the rash of injuries he has sustained during his career.
"I felt like if I wouldn't have gotten hurt, I would've been at (2,000 yards) a long time ago," Locke said. "There are a lot of backs that have 4,000 or 5,000 yards when they leave, so I don't feel like it's a big, big accomplishment."
The injury bug has started to plague Locke again this season after he picked up a minor elbow injury in UK's win over Western Kentucky. He hasn't missed any time because of the injury and said that he is not "banged up," but merely "a little sore."
Bum elbow or not, UK head coach Joker Phillips said he doesn't expect to reduce Locke's workload against Akron and its 77th ranked run defense in the nation this weekend.
"The ball's not heavy," said Phillips, who has given Locke 44 carries thus far. "He wants the carries, just remember last year he was telling us we didn't give (the ball) to him enough; He's banged up, but you think (South Carolina's Marcus) Lattimore isn't banged up today?"
Lattimore, a true freshman for the Gamecocks, carried the ball a staggering 37 times for 182 yards in a win against Georgia last week. He along with several other backs represent a changing of the guard in the Southeastern Conference.
Only Locke and Florida's Jeffrey Demps were their team's leading rushers last season and rank in the top 10 in conference rushing leaders this year.
Becoming more of a workhorse isn't change Locke is shying away from, either.
"If you want to give (the ball) to me 20 times, fine, I don't know about 30-something times like that guy from South Carolina, I don't know if I want that," Locke initially joked. " (But) if it comes to a game where coaches feel like they had to do that, I've got to do what I got to do…I've got to be durable. It's not like I take a lot of hard hits anyway."
Phillips said that Locke's maturity has helped him avoid the big hits by "get(ting) under" them or simply getting out of the way.
UK's development of a deep passing game was something Locke also credited as a difference this year.
"We get into SEC play, I feel like (defenses) will be balanced and they're not going to cheat one way or the other," Locke said. "Then natural ability will take over and I'm looking forward to it to see what I can do in the SEC."
***
UK Football Career Rushing Leaders
NAME            YEAR        YARDS    AVG        TD
1. Sonny Collins        1972-75    3835        4.9        26
2. Moe Williams        1993-95    3333        5.4        26
3. Rafael Little        2004-07    2996        5.2        16
4. Mark Higgs            1984-87    2892        5.4        25
5. George Adams        1981-84    2648        4.2        25
6. Artose Pinner        1999-2002    2105        4.8        17
7. DERRICK LOCKE    2007-present    1937        4.9        15
8. Marc Logan            1983-86    1769        4.5        11
9. Derrick Ramsey        1975-77    1764        3.9        25
10. Anthony White        1996-99    1758        4.8        11