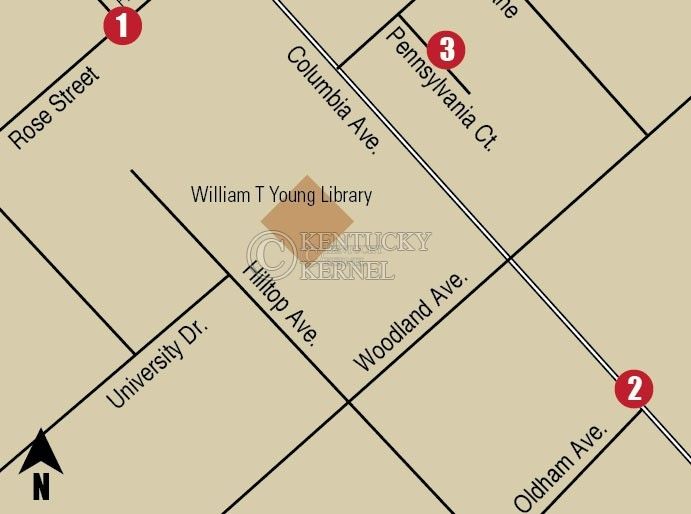 Drew Teague
UK students, faculty and staff woke up to a UK Alert system notification about two robberies near campus Tuesday morning.
One robbery occurred on the intersection of Oldham Court and Columbia Avenue at 2:46 a.m. Tuesday, and the other occurred a minute later at 447 Pennsylvania Ave. Suspects in both incidents had similar descriptions.
The alerts were sent 21 minutes after the first incident.
Therese Smith, emergency management specialist, said in an e-mail that the UKPD shift commander sent out the UK Alert.
UK Police Chief Joe Monroe said the victim in the first incident was walking home at 2:45 a.m.
"The victim said he was walking down the sidewalk from W.T. Young [Library]," Monroe said. "He walked toward Columbia Avenue when he was approached by two male black subjects."
One suspect continued walking, while the other went to the victim and told him to get down and give him everything, Monroe said.
The second subject returned to help the other, who had the weapon. The victim complied, giving him his backpack with laptop, books and other items as well as his wallet and iPhone.
Another robbery occurred just after, farther from campus, Monroe said. The second victim did not get a good look at the suspect's face, just his clothing.
"The victim was approached by a black male wearing a sweat shirt, shorts and tennis shoes," Monroe said.
The second victim's wallet and phone were taken in the robbery, Monroe said.
Because of the proximity and timing of the two robberies, they could be related, Monroe said.
Police believe the suspect in the second incident had a weapon as well and think it might have been an air assault rifle.
Monroe said he is unsure if the robberies are related.
Last week a student was robbed at the intersection of Rose Street and Funkhouser Drive at 2:45 a.m.
According to the UK Alert sent last week, that suspect was a black male, approximately 150 pounds, 20 to 30 years of age with short or no hair. He was last seen wearing jeans.
Monroe said students need to avoid situations that put them at risk.
"The number one thing is don't get yourself in that situation," Monroe said. "Don't walk alone. Use pairs if possible."
UK Police officers are increasing patrols around recent crime scenes.
"We're going to look at this and do some other things, whether it's extra patrols or actually initiating the new hours on our escorts," Monroe said. "We're looking at a couple different initiatives to try and combat that."
UK Police have streamlined the process for getting UK Alerts sent out, so students, faculty and staff get the alerts as quickly as possible, Monroe said.
Dispatchers now have the ability to fill in an online template that sends information to Emergency Management Services to be sent out in various forms.
If anyone has information about any of the recent robberies please contact UKPD by calling (859)257-UKPD (8573).