University makes weak attempt at diversity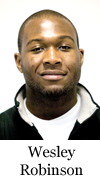 Column by Wes Robinson. E-mail
My decision to attend college had quite a few different factors, which ultimately led me to choosing UK.
Proximity to my immediate family, scholarships and the "prestige" that went along with UK played greatly into that decision. However, those reasons were trumped by diversity to some extent. I valued diversity so much that it was the reason I listed for wanting to attend UK on my entrance essay.
To me, the state's largest institution of higher education, with a growing population of diverse students, was the best option to stay close to home, avoid going broke and receive a quality education.
Many years later, I can honestly say UK has made major strides since I first set foot on campus, but personally, I notice the exact same problems.
The difference is there are enough policies and initiatives in place to give the perception that so much is happening when in fact very little has shifted.
For the first time since I took Spanish 302, I have had two other minorities in a class for my major. It is not until I go to Major Black Writers and Race, Ethnicity and Politics do I see more than three other minorities in class.
On Tuesday, the UK Chapter of the National Association of Black Journalists had more than 10 people at a meeting, which is a great turnout for us.
However, when you consider how many communications students there are along with the fact that the organization is inclusive to all students wishing to better themselves in the field of journalism, things start to look a little differently. I understand that very few classes boast a high number of minority students, but it is not as if minorities do not learn foreign languages — the same applies to having an interest in journalism.
Each year, UK touts its growing number of culturally diverse students and its growing retention rate, but there still is something missing when it comes to the interests and activities of the students being brought in. Having more minorities is nice, but if they are all in the same field of study who is really benefitting?
Diversity is something I would love to see more of on this campus, but I have become skeptical to the extent to which it can manifest itself.
Lack of effort will not be the reason however, at least in the respect of what some dedicated individuals do to ensure the spread of multiculturalism on campus.
You can look all over the place to students, staff members, departments and administrators who make it their mission to make the campus a more inclusive place.
The problem is, the reach of those collective individuals can only extend so far when the climate of the university is as it is.
This campus has learned how to go through the motions and make the proper gestures to demonstrate that things are fine and dandy when it comes to diversity. It's formulaic how certain individuals are brought in to "represent" diversity and strategic how certain inclusive terms get thrown around, meanwhile within the university the same
problems still exist.
Diversity is more than just numbers, just as much as it is more than people feeling comfortable with their surroundings. For UK to truly become more diverse, it has to recruit and welcome people from all walks of life in all aspects of the university.
Not only does UK need more minority students, faculty and staff, but it needs also sponsors, donors, spokespeople, trustees, collaborative partners and visible alumni that aren't athletes, and many other areas.
On the surface you can point to many things about diversity at UK and walk away with a positive perception of the situation, and on some levels I applaud the steps that have been made.
Until diversity extends to deeper aspects of the university on a more meaningful level, a shiny coat of paint will be all UK has to hide its true colors.