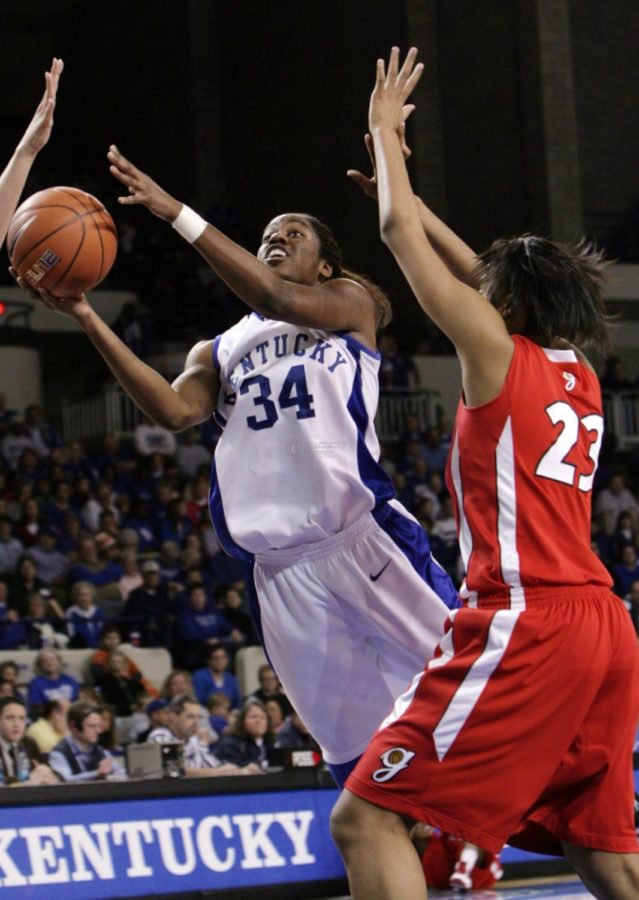 Last March, the UK women's basketball team quietly prepared for its own NCAA tournament run. One night after the UK men's basketball team's season ended, the Cats took the court in the Elite Eight, one game short of a trip to the Final Four at the Alamodome. Despite coming up short that night, the Elite Eight run was the deepest tournament run in the program's history.
Eight months later, UK head coach Matthew Mitchell and his squad are back and ready to build off of their successful 2009-10 campaign, beginning Friday night at UK's annual Big Blue Madness celebration.
"(Big Blue Madness) means a lot to our team," junior guard Keyla Snowden said. "Last year we had a lot of fun so we are really looking forward to participating again this year and seeing all the fans. We want to prove ourselves again and just show that we are a good team again this year."
This year's edition of the Cats has many familiar faces returning from last year's team. The most prominent of those returning players is senior forward Victoria Dunlap, one of the most decorated players in the program's history. Last season, Dunlap led UK in scoring on her way to winning the Associated Press' Southeastern Conference Player of the Year award, and became the first AP All-American from UK since Valerie Still in 1983. This season, she is one of 30 players on the preseason watch list for the prestigious John R. Wooden award, and is also on the preseason watch list for the Wade Trophy, given to the nation's top player.
"It's a great honor, I didn't even know I was on that list of players," Dunlap said. "I think it shows my ability as a player and how my teammates and coaches have helped me to become the player that I am that everybody is recognizing."
Also returning are fellow senior guards Keyla Snowden and Amber Smith, and sophomore guard A'dia Mathies. All four players were starters a year ago and contributed in various ways. Snowden, a Lexington Catholic High School product, and Smith used their experience in the backcourt to help the UK offense run more efficiently. Mathies earned a spot in the starting lineup as a freshman.
"Everybody who returned from last year, we all know what to expect," Snowden said. "So this year we just plan on continuing on what we did last year, but also improving and making a name for ourselves and starting over fresh by getting the underclassmen on board."
UK also welcomes six new freshmen to the team to meet the seven returning players.
Freshman Sarah Beth Barnette grew up in Lexington watching Big Blue Madness with her family and friends. Friday, she will finally have the opportunity to participate in the time-honored event, a day she has been dreaming of for years.
"My whole life I have been a UK fan watching Madness, and to finally be in it is just crazy," Barnette said. "I don't even know what the feeling is going to be like because it was just such a good feeling to watch my home team do that growing up and now I am actually a part of it."
Mitchell and his team have high goals as a team for the upcoming season as they anticipate all of the Big Blue Madness festivities.
"Minor goals (for the team) are that we want to be known as a defensive team, and that we want to work hard and just be dedicated to everything we do every day," Snowden said.
Dunlap had even loftier goals for the team in her final year at UK.
"The goal is to take it to another step," Dunlap said. "We want to get to the SEC championship and win the SEC, and then get back to the NCAA tournament and win the national championship."
But Big Blue Madness is not all about predicting postseason play; it is about celebrating the start of a new season of basketball in the Bluegrass, and giving Big Blue Nation a chance to show their appreciation for their men's and women's teams.
"I am pretty excited (about Big Blue Madness)," Dunlap said. "It's my last time going around and being a part of it, so I am pretty excited about the fans being there and cheering for our team."