Take advantage of all city, SG offer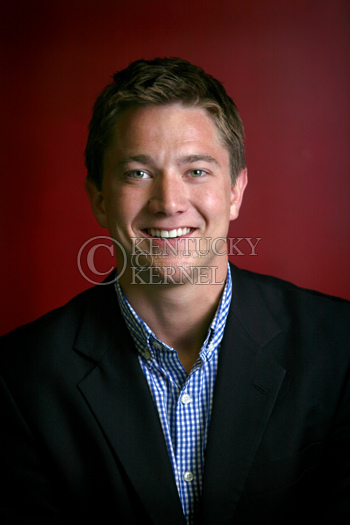 Column by Ryan Smith. E-mail [email protected].
The fall weather has finally decided to sweep through the Bluegrass this week, and I can't think of a better time for the season to hit.
With Keeneland opening this weekend, the World Equestrian Games winding down and the Cats starting a three-week homestead against Auburn, it is an exciting time to be in Lexington. More so, it's a great time to be a UK student, and I hope you are taking advantage of the numerous opportunities available on and off campus this month.
Student Government has a full month ahead, and one of our top priorities is student involvement and pride on campus. This year, SG promotes "SeeBlue" Fridays, which will take place each Friday throughout the semester, to boost school spirit and unity. Simply wear your favorite UK blue shirt around campus every Friday, be seen by the patrolling group of SG representatives and take home some free swag in return.
SG is also partnering with UK Athletics to devise a new online ticket lottery process to increase efficiency, decrease time spent standing in line and streamline the ticket distribution to those truly dedicated to making Rupp rock on game day. The lottery system has not been finalized, but measures to benefit students are a priority.
As it stands, students will know before the lottery if they are able to buy a ticket. If a student is selected to attend the lottery, he is guaranteed a ticket for that respective group of games. Should students not be able to attend a game they purchased a ticket for, they may still give that ticket to another individual by using their ID. More details will be announced in the near future, but if you have any input on how we can help make distribution run more efficiently, e-mail [email protected].
Speaking of basketball, TallyCats prizes for this coming month will include a spot on the Cats Convoy to watch our Wildcats take on Notre Dame in Louisville on Nov. 8. So, if you were unable to get a ticket to the game in the student lottery and still want to make the trip, attend as many TallyCats events as possible this coming month.
You can check out all of the upcoming events at our website, (www.tallycats.uky.edu). Remember, it is as easy as swiping your UK ID at any TallyCats event. Points will be credited to your account. You can track how many points you have and even see how close you are to cracking the leader board on the TallyCats website. The leaders at the end of the month will be chosen and notified before the game.
Freshmen interested in becoming an integral part of Student Government now have the opportunity to become members of the Student Government Senate. Elections are quickly approaching, and applications are available in the SG office, room 120 of the Student Center. The freshman class will elect four freshmen to sit as members of the UK Student Senate. All applications must be returned by 5 p.m. Oct. 14, so be sure to stop by and grab an application as soon as possible.
We encourage all student organizations in need of funding for upcoming activities to come to our office and fill out a funding request form. Every registered UK student organization is eligible and welcome to present their request before the Senate A and R Committee for funding approval. It is our goal as your elected representatives to help as many students as possible, and funding for student organizations is a great way for us to accomplish this goal and make UK better.
Continue to take advantage of all Lexington is offering downtown during the World Equestrian Games, and of course, show up in force to cheer on our guys as they take down the terrible Tigers, and root on all of our UK athletes in competition this fall. Go Wildcats!