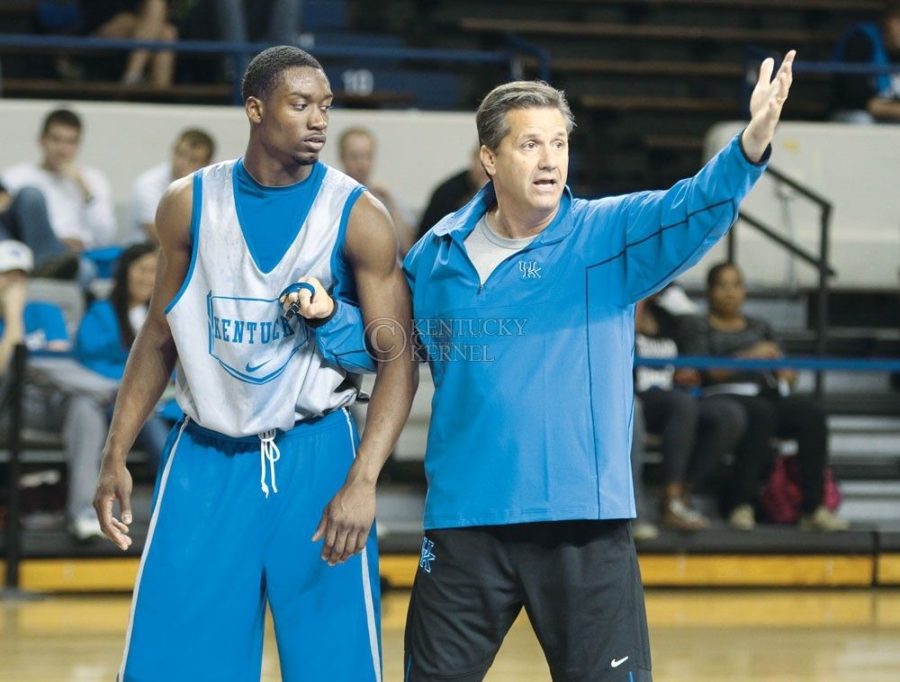 After the basketball practice was over, and the students had trickled out after their exclusive look at a John Calipari-led practice, Brandon Knight and Terrence Jones stayed on the floor.
The two freshmen kept hoisting up three-point shots, honing their strokes, rebounding for each other. Knight and Jones, two high-profile recruits, were just a couple of players shooting around. At one point, a long rebound got away from Jones, who chased it down at half-court. Walking back, he stopped around the infamous Tayshaun Prince spot – a foot or two inside the half-court line and the sideline – and launched up a three that banked in. Jones raised his hands in celebration, waving his arms to pump up an imaginary crowd.
Memorial Coliseum stood silent all around them.
***
Only minutes before, however, Memorial Coliseum had been filled with students and faculty who had come to watch the men's basketball practice.
This practice was the opposite of the first official practice of the year, Big Blue Madness – a thorough glimpse into the new UK team, stripped of all the adornments and adulation surrounding the annual hypefest of Madness.
UK head coach John Calipari said at the conclusion of Madness that it was now time for business. He meant it. Calipari was at the helm of the practice, barking, blowing whistles, clapping, praising – teaching.
Calipari directed the team through an array of drills, instructing the entire way. Students and faculty were able to get a glimpse at the team during one of their earliest real practices. Brandon Knight showcased physical talent, leadership and work ethic. Darius Miller and DeAndre Liggins looked like they were embracing the leadership role. Josh Harrellson was crashing the boards hard – and swatted a Jarrod Polson alley-oop attempt even harder. There was something to glean for almost every player.
The crowd sat silent the whole time – after all, they were in Calipari's classroom, as he said at the introduction – and watched the team work through offensive, defensive and rebounding drills. (Oh, and not to forget the hustle drills that opened practice, where players took a charge and then dove for a loose ball. It was indicative of the new business standard surrounding the team.)
Near the end of practice, Calipari began dribble-drive motion drills. He broke down the spacing and movement for all the players, most of whom are probably brand new to the system. Then again, the learning may never stop.
After an hour and a half, Calipari closed the practice with a team breakdown.
"With 10 guys, I can't practice 2 and a half hours," Calipari said. "I'm trying to make them better, not kill them."
***
After practice, Knight and Jones continued to move around the three-point line, nothing but clangs and swishes as a soundtrack to their shots. They moved to the free-throw line for some practice – Knight with a fluid two-bounce, spin motion and Jones with that lefty shot – and worked some more.
After another round of three-pointers, Knight went in. Jones asked for one more. He took a shot, and missed. Took another, and missed. Knight went down the tunnel, leaving the one last UK player on the floor. Jones took three more shots, missed them all.
Finally, Jones swished one. He left his arm up, wrist cocked. Letting the ball dribble across the floor, Jones finally disappeared into the tunnel.
Even Terrence Jones has to leave on a make.