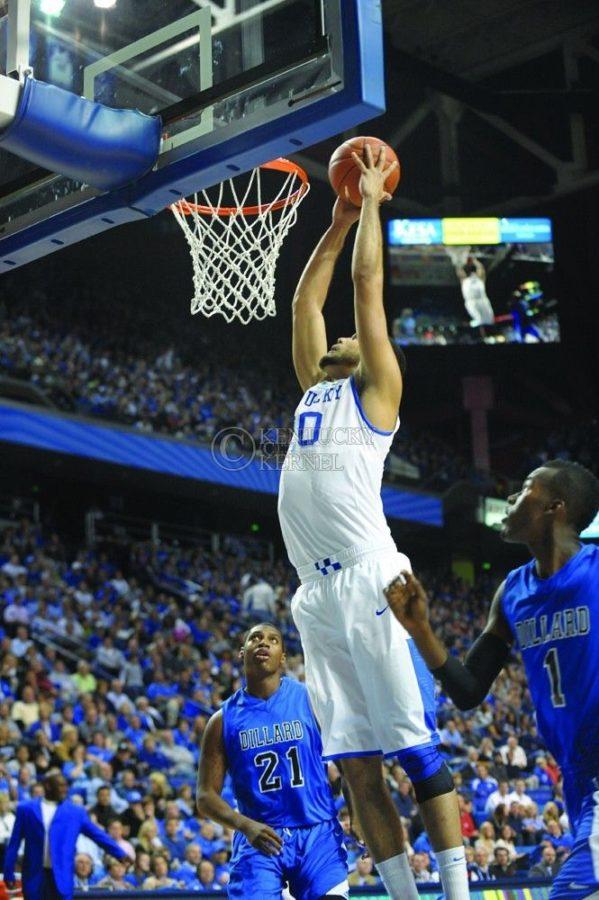 Midway through the first half of the exhibition game against Dillard, Josh Harrellson was pounding his chest.
Harrellson, the (only) senior and (perhaps the only) center for UK, had just torn down three straight rebounds, and the last led to a putback, which led to the chest pound.
UK will need a lot of chest pounding from Harrellson this year, and maybe some from junior college transfer Eloy Vargas, too.
While freshman Enes Kanter is sitting on the sidelines because of an ongoing NCAA investigation into his amateur status, Harrellson and Vargas are the only qualified "big men" of the team. Both are going to be counted on to develop into low-post presences.
"(Harrellson) is playing better than he's ever played in his life," UK head coach John Calipari said. "And I'm asking for a little bit more."
Harrellson, who pulled down seven rebounds in both exhibition games, wants his coach to press him for his best. The Cats will need all Harrellson can give them.
"I don't want him to stop asking for more," Harrellson said. "I don't want to sit on the side. I can always get better."
Growing a beard seems to be one of the things Harrellson does well. He said the beard was because of a broken razor and participation in No Shave November, although it seems impossible to grow something that majestic without a head start of some kind.
"Before the game I said, 'fear the beard,'" Harrellson said. "I was just playing around."
Harrellson doesn't do other things so well, such as alley-oops, despite being 6-foot-10.
"Yeah, he was struggling," Calipari of Harrellson's inability to flush the alley-oops. "I've seen him do it, but you've got to have an effort and say I'm going to dunk the ball. I'm going to go out and get this. Not that I'm going to wait."
In the overall scheme, though, these things are largely inconsequential. Rebounding and defense are vital, however, and Harrellson's ability to do these two things remains to be seen. Harrellson said he can be "great" at both during the preseason and added that he can do more than just the dirty work in the interior.
"I'm capable of being a scorer," Harrellson said. "I'm not going to be the John Wall of the team. I'm not going to be a playmaker, but I can be a finisher."
As for Vargas, Calipari is trying to instill more toughness in him.
"I've got to get some fight out of Eloy," Calipari said. "He loves the chance, but it's not just playing. In that position, you've got to battle."
Vargas pulled down six rebounds against Pikeville and just two against Dillard, which doesn't have a player listed as taller than 6-foot-8 on the entire roster.
"I need to rebound the ball better and work more on boxing out," Vargas said.
Calipari said if there's anything this year's team is not, it's a "beast" inside. And while UK has at times employed a smaller lineup featuring Terrence Jones at center, Harrellson and Vargas will have to contribute for the Cats to be effective.
"We need (Eloy) to perform," Calipari said. "We need him to give us a presence … We need Josh to do the same."