Video game producer returns home to UK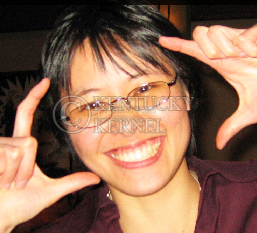 By Gary Hermann
A UK graduate helped create a video game many college students have likely played.
JoAnna Lio Amos is a lead producer for the game series "The Sims." The Lexington native returned to UK on Tuesday to present, "From Passion to Profession: A Kentuckian's Journey into the Game Industry."
Lio Amos was introduced by College of Communications and Information Studies Director Beth Barnes. Next year, the Telecommunications program will be changing its name to Media Arts and Studies, Barnes announced.
Lio Amos has an avid gamer for most of her life.
"I wanted to give back to this thing that has given so much to me," Lio Amos said.
She said that people in gaming are trailblazing the industry.
"Our industry's just in its baby steps," Lio Amos said.
She is a graduate of Lexington Catholic High School, participated in Governor's School for the Arts and was a National Merit Scholar. She interned at Structural Dynamics Research Corporation in Cincinnati and worked on computer-aided design and manufacturing.
She then interned in Seattle, closer to game companies like Sierra.
While at UK, Lio Amos learned of the International Game Developers Association Scholarship, which she later received. She described how she viewed their conference.
"It was like going to an Emmy nomination," Lio Amos. "There were so many people I respected."
While in graduate school at Indiana University, Lio Amos interned at Electronic Arts. She then worked as a designer on "The Sims 2" and a producer on "The Sims 2 Pets" and "The Sims 2 Castaway." Her most recent project was as a lead producer for The Sims 3 for consoles.
Lio Amos discussed the different roles of producers and the process a producer goes through in making a game.
"We now use the Agile Method," Lio Amos said. "It's not one big sprint. We bite off smaller chunks. It's really manageable."
She concluded by giving advice to prospective marketers, engineers, artists, producers and designers.
"Be prepared to move on short notice," Lio Amos said. "Stay open-minded about what work you can do."
"Be a sponge," she said. "Ideas can come from anywhere."