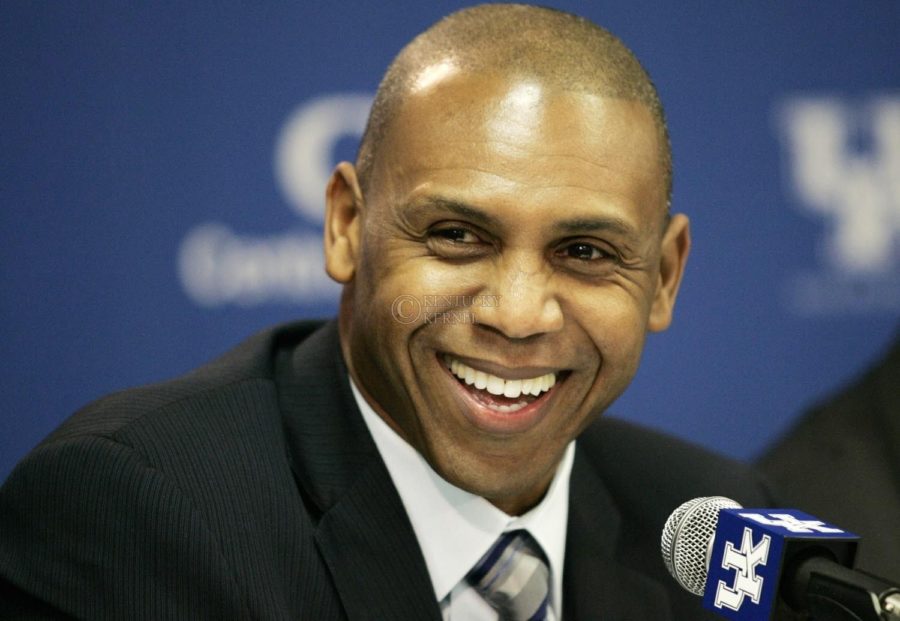 Before Saturday's men's basketball game between UK and Mississippi Valley State, the newest additions to UK football head coach Joker Phillips' coaching staff, running backs coach Steve Pardue and co-defensive coordinator Rick Minter, addressed members of the media for the first time since Thursday's announcement that they had officially joined Phillips' coaching staff.
Perhaps the biggest news to come from this meeting was Phillips stating that Minter will be responsible for calling the defensive plays instead of incumbent defensive coordinator Steve Brown, despite the two coaches sharing the title of defensive coordinator.
"With co-coordinators, somebody has to be in charge, you can't have two guys calling it…and coach Minter will be in charge of the defense, calling it, and making sure our practices are organized," said Phillips, who added that he expects Brown to remain on staff.
More importantly, said Phillips, is that both of his new assistants satisfy his three criteria for a good assistant coach: an ability to recruit, teach and having that "juice," or enthusiasm.
Phillips said that he credits the Cincinnati football program's turnaround to Minter, who is the winningest coach in Bearcats history, and served in that position from 1994-2003, during which time Phillips served on Minter's staff as an assistant for two years, one as wide receivers coach and the other as a secondary coach.
For Minter, the role reversal between mentor and pupil is the nature of the coaching industry.
"Everybody's career goes high and low, ebbs and flows," said Minter, who maintained a relationship with Phillips over the years and most recently served as linebackers coach at Indiana State. "One day you're drinking wine and the next day you're back to stomping grapes and it's happened to all of us."
Since his departure from Cincinnati, Minter has also been a member of coaching staffs at South Carolina (2004), Notre Dame (2005-07) and Marshall (2008-09).
"I can't thank Joker enough for allowing me to coach back in a premier league, we're back in business here," Minter said. "At a program that you always have higher aspirations perhaps than what has been reached…(and) we'll probably never win the league until we get better on defense."
Unlike the veteran coach Minter, Pardue is a rookie to the collegiate coaching ranks after spending 17 years as LaGrange (Ga.) High School head coach.
A native of Glasgow, Ky., Pardue is no stranger to UK, however, as several of his former players have played or currently play for the Cats. Moreover, former UK head coach Rich Brooks tried to lure Pardue away from LaGrange twice before, before Phillips was successful on this third attempt.
"I had a couple of opportunities to come here earlier and it had nothing to do with anyone else," Pardue said. "But I can honestly say the reason I came this time was two-fold: No. 1 was the chance to work with Joker Phillips, I believe in the things he believes in…and the second thing is the opportunity to come to the University of Kentucky, which is in my home state."
Pardue added that his mother, who died in January, would have been the one person most pleased by his acceptance of the job because she was a diehard UK fan.
However, Pardue hasn't had much time to revel in his first collegiate coaching job because he was out on the road recruiting in his first week on the job, visiting 11 schools in Georgia this week. Georgia is an area Phillips said needs to be a key target for the Cats in recruiting.
For now, Pardue said his learning curve has nothing to do with the step up in competition but more so coping with several items: recruiting, preparing for a bowl game, getting to know his personnel and adapting to a new role.
"Right now, I think the biggest difference is being an assistant coach rather than a head coach," Pardue said. "But I think football is football."