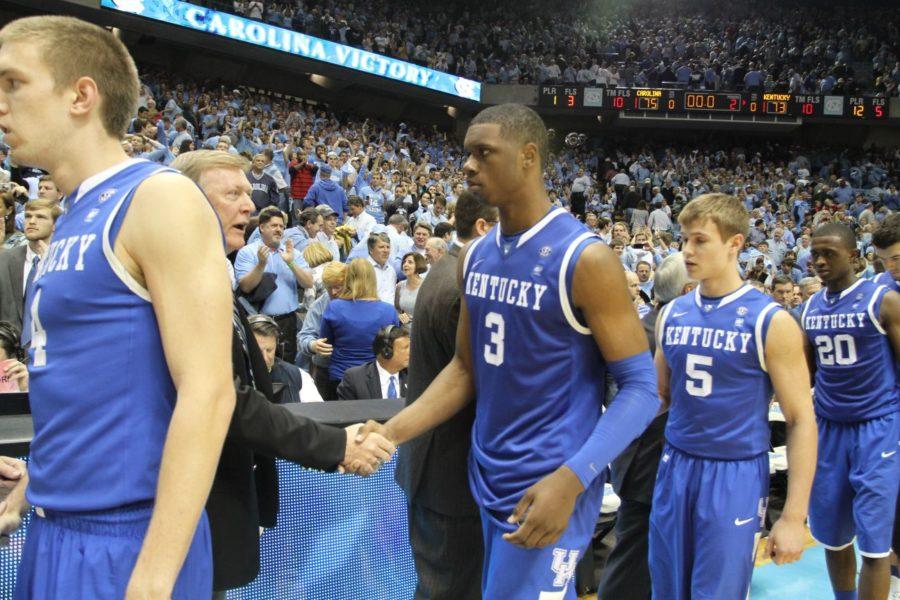 Following UK's 75-73 loss to North Carolina, everyone seemed to come down in one of two ways: either an encouraging sign that UK stayed in it, or a discouraging sign as UK's lack of a post presence was sharply displayed. Here's some links of writers discussing one or the other.
1. It was encouraging that UK was able to stay in the game the entire time, giving themselves a chance to win late in the game, with a team that young, in an environment that hostile, against a team that desperate, with its best player (Terrence Jones) having a poor game. This outlook saw the game as a learning experience going forward.
John Clay of the Herald-Leader here
Dana O'Neil of ESPN here: "This certainly isn't a killer for Kentucky. The Wildcats played on the road against a team desperate for a win and despite foul trouble at every turn, were in the game until the last possession."
And this: "Kentucky showed equal heart and gumption. On the road, a team lopsided with freshmen didn't play nearly its best game yet managed to have a chance to win it at the end."
2. The other stance is that UK's lack of any semblance of an effective front court was severely exposed against the North Carolina big men — who are by all standards productive and solid players, but also by no means downright beasts who tear everybody up. This camp saw the game as an exposure of a fatal flaw that honestly has no fix (unless, of course, one Enes Kanter is allowed to play).
Nick Craddock of the Kentucky Kernel here
Jeff Goodman of Fox here
Gary Parrish of CBS touches on it here: "…A Kentucky team that could've used Enes Kanter, DeMarcus Cousins or Daniel Orton. Or Perry Stevenson, even."
Jason King of Yahoo Sports here, although he contends that Zeller has now proven himself an elite big man capable of being the centerpiece of the Heels: "Sure, Zeller's flashy stat line may have been tallied against a Kentucky squad that lacks depth and experience in the paint. Watch Zeller play long enough, though, and it's obvious his skill set would make him a force against any opponent."