Cats' 2011 quarterback situation unresolved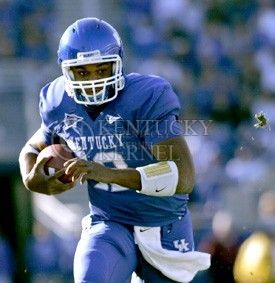 The UK football team was without the services of starting quarterback Mike Hartline for its season-ending 27-10 loss to Pittsburgh in the BBVA Compass Bowl due to suspension, and will have to get used to life without Hartline going forward because the fifth-year senior has used up his eligibility.
Hartline posted the best statistics of his collegiate career in his final season as a Cat after winning the starting quarterback job in August by beating out sophomore Morgan Newton and redshirt freshman Ryan Mossakowski.
However, the Cats' quarterback situation is back to square one heading into spring football after Newton failed to solidify the starter's role with his fill-in performance in the Compass Bowl. He finished with a career-high in passing yards (211), completions (21) and attempts (36) against Pitt.
"(The quarterback competition) will be open; I don't think we have a starter right now for next season," UK offensive coordinator and quarterbacks coach Randy Sanders said. "We have got a guy (Newton) who has started some games and played pretty well. We've got another guy (Mossakowski) that I think is talented and has the ability to play but hasn't done it a whole lot on gameday. I hope they both compete hard."
Sanders said he has yet to discuss with UK head coach Joker Phillips and the rest of the coaching staff his thoughts regarding the quarterback situation.
On the other hand, at Saturday's postgame news conference, it seemed apparent that Phillips was insinuating that the slight edge belonged to Newton to retain the starter's job.
"He will start a competition in spring football with Moss and another young quarterback (true freshman Maxwell Smith)," Phillips said. "He's got to hold those guys off and he's got to play better to hold those guys off."
Phillips added that Newton's performance was "much improved" since his last start in the 2009 Music City Bowl.
Sanders gave Newton's performance a favorable review: "It wasn't perfect, but Morgan played pretty well today…other than missing (tailback Derrick) Locke one time and missing (receiver) La'Rod (King) one time, he didn't miss many throws; I think he threw it 30-something times and I thought there was maybe one time he threw it to the wrong guy."
Newton brings mobility to the quarterback position, as evidenced by his 12 carries in the Compass Bowl, unlike the pocket passing styles of Hartline or Mossakowski.
"I expected (Newton) and encouraged him to be willing to pull it down and take off running with it and make some plays," Sanders said.
One such play was a long scramble on a 3rd-and-19 when Newton ran for 18 yards to put the Cats in position to convert on 4th-and-short. However, Newton's willingness to run also resulted in a fumble on UK's opening drive versus the Panthers—protecting the football on scrambles is something Sanders said he warned Newton about.
"I'm a 19-year-old kid, and I guess I was a little hard-headed about that," Newton said. "On the first drive I laid it on the ground."
Sanders said he is confident that the Cats can win in the Southeastern Conference with whichever quarterback becomes the starter for next year.
Newton and Mossakowski were both highly touted recruits from the class of 2009 and were listed jointly as the backup quarterback on the depth chart this season. Mossakowski redshirted his first season on campus while recovering from a shoulder injury while Newton recorded a 5-3 record as a true freshman in relief of an injured Hartline.
Still, in his ninth career start, Newton missed the opportunity to lock up the starting role, for now.
"I feel like I made some plays but that I left a lot of plays on the field," he said.