Bath salts used as hard drugs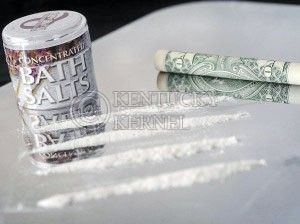 By Ally Rogers
When average Americans thinks about bath salts, they probably think about the crystal- like substance their mother or grandmother bought at a body therapeutic store.
But when the Drug Enforcement Administration, police officers and poison control centers think about bath salts, it is entirely another substance.
The white powdery substance that is easy to come by is being used as a legal substitute for methamphetamine and cocaine, said Henry Spiller, the director of the Kentucky Regional Poison Center.
Comprised of methylenedioxypyrovalerone and mephedrone, which are analogues of other known stimulants that have been banned, the drug is being sold under names such as Ivory Snow and Vanilla Sky can be found in head shops and gas stations nationwide.
"This isn't your mom's bath salts we're concerned about," said Capt. Kevin Franklin from the UK Police Department. "This is some potent stuff."
Users eat, smoke, snort or inject the drug. Side effects range from increased heart rate and blood pressure, vomiting and confusion to agitation, violent outbursts, hallucinations and suicidal thoughts, according to the Kentucky Regional Poison Center.
For $15 to $25, the high lasts for only a few minutes, while the addiction and cravings are reported to be highly intense, Spiller said.
More than 40 cases of bath salt usage have been documented in Kentucky alone, Spiller said. He said the worst case is still on a ventilator at a local hospital. Nationally, the worst cases documented have ended in death.
However, it is not a gateway drug, Spiller said.
"We're not seeing this in first-time drug users," he said. "We're seeing this in seasoned drug users, and they're getting sick. We don't see these numbers for ER visits for meth or coke binges, but (bath salt users) come into the ER in major distress."
As for the typical age of a user, Franklin said it varies.
"It crosses every level of society," he said. "No one is immune to it."
Spiller listed cases to have been documented in Paducah, Pikeville, Fort Campbell, Lexington and Louisville, among several other Kentucky cities.
The cocern for this drug has sky-rocketed.
Louisiana banned the substance in an emergency order in late 2010 after receiving more than 125 calls about exposure in the last three months of the year.
Mississippi also moved to outlaw the sales of the substance, which is also sold as ink remover and insect repellent.
According to officials, Kentucky has a bill in legislature to ban the substance, too.
At the federal level, Sen. Charles Schumer, D-N.Y., has proposed to add the chemicals MDPV and mephedrone to the list of federally controlled substances.
In December, the DEA issued a warning about the use of bath salts, explaining that the drugs are dangerous and each use has unpredictable side effects.
"The problem with designer drugs is that a good chemist can change one chemical compound and it's no longer illegal," Franklin said, adding that the process to ban the substance could take a while, so in the meantime cases are going to continue to be documented.
To date, no UK student has been documented using bath salts, Franklin and other local authorities said.
Spiller explained that as far as the Kentucky Regional Poison Center is concerned, they have chemists testing products to figure out how to help those exposed to the chemicals. It has not been determined that additional funding is necessary for testing.
"Our chemists are doing this on their own time," he said, adding that the drug is too new to know much about it.
The first bath salt documentation was mid-year 2010.
Spiller said more research needs to be conducted before the drug is understood.
He said that nationally, two to three cases are being reported each day. However, the hospitals are having difficulty tracking and recording these incidents.
"Right now it's not anything we (record)," said Rhonda Ransford, the coding manager at UK hospital. "Right now we capture the results of the drug."
Franklin said the impact this drug is going to have is unknown, but officials are predicting it to be substantial.
"This is a problem," Spiller said. "And it's a changing situation."