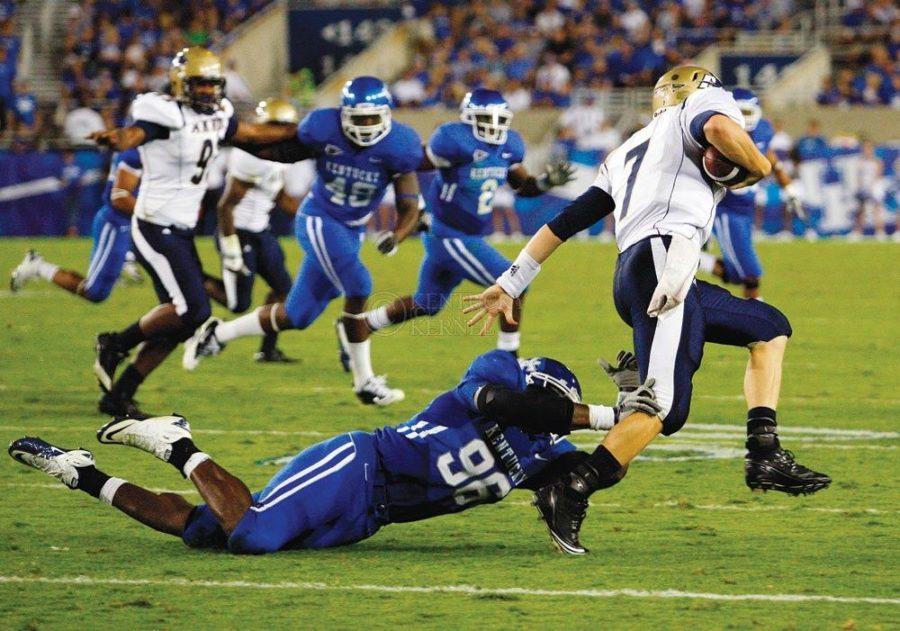 The longer NFL players were locked out over the summer, the more UK players benefited.
With NFL facilities inaccessible to former UK players now in the pros, some, including former defensive linemen Jeremy Jarmon and Corey Peters, returned to the UK campus.
"The NFL lockout was a blessing for us," junior defensive end Collins Ukwu said.
Jarmon, worked out at UK most of the summer, lifting weights and going through defensive line drills with the UK group. He brought along his reservoir of NFL knowledge to share.
He told Ukwu to increase his film study to three or four times a week, focusing on missed opportunities from last year's games that Ukwu could capitalize on this time around. And he taught him a new swim move, in which Ukwu dips his arm under the offensive linemen and locks it.
"It's something you
don't want to practice against your teammates," Ukwu said. "Because you might hurt them. It's the type of move you have to think about before you do it because it's so hard."
If the former Cats helped the line get ready to spearhead the new, aggressive defense that focuses on creating negative plays, it certainly will be. Last season,
UK was tied for second-to-last in the SEC in sacks created. Rising in the rankings would be indicative of the new scheme.
The line has many names that are familiar — Ukwu, Taylor Wyndham, Donte Rumph, Mister Cobble, Luke McDermott – but sometimes haven't become common names in games, due to a variety of reasons.
While UK expects all of them contributing — along with a few linebackers who could see spot time with their hand on the ground —head coach Joker Phillips is still unsure about another lineman, Mark Crawford. Crawford was suspended the last two games of last season for a violation of team rules and was charged with driving with a suspended license in February.
"We expect him to do what he's supposed to do all the time," Phillips said. "He has done that for the most part, but he's still working his way to be a part of this football team. It's day to day."
The others provide enough depth to be productive if Crawford has to miss extensive time.
"We've got some defensive linemen that have not played a lot around here," said Phillips, pointing out Cobble and Rumph as two players "that now should be in the mix."
Cobble has been out of the mix too long for his liking. He redshirted in 2009 and was forced to sit out all but the bowl game due to academic eligibility issues in 2010.
"I was chasing females instead of grades," Cobble said.
Cobble said he got the females. He also got Scout Team Player of the Week last season once. It's an honor he doesn't particularly want. It only signifies lost time.
With an opportunity to be part of the new-look defense, he doesn't want to miss this one.
"Football flies by fast, and sooner or later I'm going to be sitting in the front row with the fans," Cobble said. "And I'm going to be looking back. I don't want to be one of those guys who looks back and thinks they could have done more."