Calipari guides UK team through 'brutal' workouts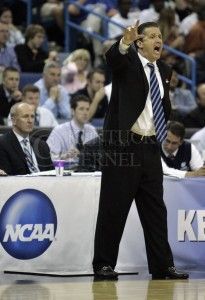 After UK's loss to Louisville in football on Saturday, fans clamored for basketball season.
The basketball team was already on it.
"After the football game, I went for almost two hours, and what we did was go through the drills that we're going to be using," UK head coach John Calipari said on his website. "The Dribble-Drive, how we teach it, how we implement all the parts of it. Including shooting from it and also what we have added since my trip to FIBA basketball – some ball screening. So now we've added that."
Calipari has been squeezing in time with the team, from individual workouts to team practices, between returning from coaching the Dominican Republic and being out on the recruiting road. On Sunday and Monday, Calipari said, the team went for about one "brutal" hour each day. He won't be around again until next Sunday.
"They know why they came here," Calipari said. "To be coached, to be challenged, to go against the best. In this practice, when you shoot a lazy shot, it got blocked. It got pinned."
Calipari also said he was happy with the pickup games being played between former UK players (and LeBron James, once) and the current team.
"That gives us that advantage, for them, to see how a professional plays like and how they train," Calipari said.