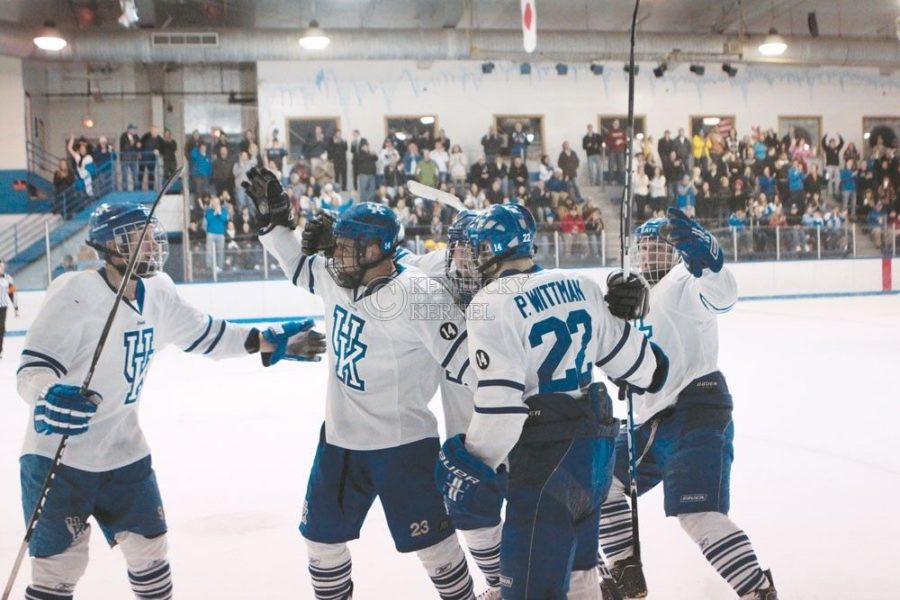 The UK hockey team is back at it for another season, beginning tomorrow night with the team's 2011-12 debut against Ohio University at the Lexington Ice Center. Since last season's conclusion in a loss to Liberty in the regional tournament, the team has worked even harder to achieve its ultimate goal — reaching nationals.
But all that hard work comes at a price — a price of $2,000, to be exact. The UK hockey team is actually a club sport, meaning they receive the same funding from UK, $600, as any other club.
Michael Getz, a senior assistant captain, said the team receives as much money as the club dodgeball team. As a result, each team member must pay a $2,000 fee at the beginning of the season in order to participate on the team. That money goes toward reserving the ice rink for practices and games, travel expenses, equipment and anything else that helps the team function.
Still, UK is able to recruit some of the top talent in the region and thinks this year's team is deeper and more complete than in past years.
"UK hockey has a great name, and we've been around for 27 years and kids want to come here to play because of the families," Getz said.
That strong recruiting has built the program into a perennial postseason contender year in and year out under head coach Rob Docherty.
"I think the years before we've been very front-loaded, we had two good lines," senior team captain Billy Glass said. "But now, we've gotten a lot deeper since we came here, we've got three or four good lines. We've got a lot of good guys who are on the bench or in practice that won't dress for games but are in practice helping us out, so this would be the best I think."
The Cats compete in the American Collegiate Hockey Association, an organization that more than 100 collegiate hockey teams nation-wide compete in every year. This year, UK faces one of its most daunting schedules in recent history with matchups against Ohio State, Penn State, Illinois, Dayton, Michigan and division I Indiana looming.
UK is sectioned off into the Southeastern regional and was among the 10 teams competing in the Southeastern Collegiate Hockey Conference Championship Tournament for a spot to nationals a year ago. From those 10 teams, the top two automatically qualify for Nationals, while the other eight compete for the final two spots in nationals from that region.
Last year, UK lost in the first round of regionals, falling just two victories shy of its ultimate goal. This year, Glass, Getz and fellow senior assistant captain Sean McLaughlin think UK has the talent to finally overcome the hurdle and reach nationals.
"I think we just have to have everybody show up," McLaughlin said. "Sometimes in big games we'll have like 75 percent of the team there and then a couple guys just aren't going their hardest or mentally there. I think with everybody we got this year we just need to be focused every game."