The week 5 Edge: UK vs. LSU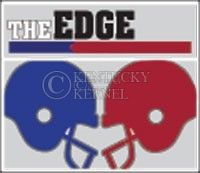 The UK defense vs. the LSU running game
UK's defense has not been the problem for the team so far this season. For a unit that struggled mightily in 2010, the defense allowed just 16 points in the Cats' two victories against Western Kentucky and Central Michigan. Despite allowing 48 points to Florida, the defense took the field inside its own 50 four times following four turnovers by the UK offense, a difficult task for any defense.
LSU's running game, ranked 40th of 120 division I-A teams, has been the strong suit of the offense for the Tigers so far this year. With starting quarterback Jordan Jefferson coming off suspension for his first game of 2011 following an altercation outside of a Louisiana bar in August, the offense may find more balance.
Being a mobile quarterback, Jefferson, who is still not a lock to play Saturday, and the LSU coaching staff will likely move the offense primarily using the run.
The Tigers have done most of their running with two backs: sophomores Spencer Ware and Michael Ford. Ware and Ford have combined on 129 carries for 618 yards and nine touchdowns in just four games, an average of 32.3 carries for 154.5 yards and 2.5 touchdowns a game.
While the Cats' defense loves to crowd the line of scrimmage, expect LSU's punishing offensive line and explosive running game to establish itself early, opening up the passing game for LSU against UK's vulnerable secondary.
Edge: LSU. It is No. 1 for a reason, and no one should expect the Tigers' offense to slow down at home against UK. While the Cats' defense is much improved from 2010, it still does not have the speed and athleticism throughout the depth chart to compete with LSU's offense, especially in the secondary. Expect LSU to come at UK early with the run, then open things up and spread the Cats' defense out in order to pick them apart.
UK offense vs. Death Valley crowd noise
All week at practice, UK head coach Joker Phillips has used simulated crowd noise right behind his team's offensive huddle in order to prepare it for communicating despite LSU's noisy fans.
Phillips has attached speakers to the back of an SUV and parked the vehicle directly behind junior quarterback Morgan Newton and the rest of the UK offense. While the noise produced from the car's speakers may not be as loud as the Tigers fans in Baton Rouge, La., Phillips hopes that practicing with some sort of noise will bring the offense together and help it find the chemistry needed to communicate and function together in the hectic road atmosphere it will face at LSU.
No one on UK's current roster has ever had to play a game in Death Valley, home of the Tigers. Widely regarded as one of the loudest stadiums in the nation, UK will be tested in its first appearance away from Commonwealth Stadium since its week-one matchup with Western Kentucky at an almost-empty LP Field. UK can expect a raucous atmosphere in Death Valley as LSU's fans will be watching their team for the first time since it took over the No. 1 ranking earlier this week.
Edge: Death Valley gets the edge because it always gets the edge over LSU's opponents. With 92,542 seats, making it the eighth-largest stadium in all of college football, LSU has won 44 of its last 49 home games dating back to 2004, including victories over 10 ranked teams. Expect UK to become LSU's 45th home win in its last 50 tries Saturday.
Overall edge: The overall edge goes to the No. 1 team in America. So far in 2011, LSU is 4-0 with three wins against ranked teams on the road. UK, on the other hand, lost to Louisville earlier this year for the first time since 2006 and gave up more than 40 points to Florida for the fourth straight year. Unless something catastrophic occurs in Baton Rouge this weekend, expect LSU to win and win big.