The Week Three Edge, Governor's Cup edition: UK vs. Louisville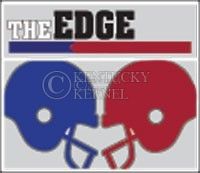 Breaking down the key matchups in the 24th edition of the Governor's Cup rivalry between UK and Louisville on Saturday.
UK running back Josh Clemons vs. the Louisville run defense
Following Thursday's practice, UK head coach Joker Phillips announced that starting running back Raymond Sanders will be out for a handful of weeks with a right knee injury suffered in UK's win over Central Michigan last week. Sanders had arthroscopic knee surgery Thursday morning, forcing him to watch the Louisville game from the sidelines. The starting running back job is now bestowed upon freshman Josh Clemons, UK's leading rusher through the first two weeks of the season. Clemons has 25 carries for 165 yards and two touchdowns, including a UK freshman record 87-yard touchdown run against Central Michigan. But thus far in his collegiate career, Clemons has never been asked to carry the workload as the primary back in Phillips' offense.
Louisville's defense won't make Clemons' job any easier. Despite posting one of the poorest pass defenses in the nation, the Cardinals' run defense has excelled in 2011. In their first two games, the Cardinals have allowed just 94 rushing yards a game to their opponents. Last week in a loss to Florida International, Louisville allowed just 45 yards rushing to the Golden Panthers' offense.Led by senior linebacker Dexter Heyman, who leads the team in tackles, Louisville's defense has the ability to cover the field from sideline to sideline.
"They definitely stack the box and dare you to throw it," Phillips said. "Teams have had some success throwing the ball on them. We'll have to throw it consistently to have a chance to get them out of the box so we can run the ball."
UK's banged-up offensive line will have to establish a push up front early in the game against the Cardinals if Clemons and UK is to have any hope of running the ball. To do so, the line will once again have to make it work despite injury problems that have plagued the unit since training camp. Center Matt Smith is no longer in a walking boot recovering from a sprained ankl, and will be ready to play Saturday. Still, Phillips said he plans to start senior Jake Lanefski in his place again this week. Right tackle Billy Joe Murphy once again did not practice this week and is doubtful to participate in Saturday's game. Freshman Darrian Miller will start in his place for the second week in a row.
Clemons has shown the ability to turn ordinary runs into big plays, but with an injury-filled offensive line in front of him, an inexperienced stable of backs behind him on the bench and a strong Louisville run defense in across from him, his new job will be made that much more difficult.
Edge: Push. Clemons will have a handful of exciting plays, but over the course of the game he will be limited by Louisville's defense.
UK secondary vs. Louisville quarterback Will Stein
For two weeks, it has been UK's defense, a unit that struggled mightily in 2010, that has carried the team while the offense searches to find its new identity. The Cats are allowing just eight points a game in 2011 and have allowed just one touchdown to be scored on them in two games. But the defense has not been perfect to this point, especially in its pass defense.
The Cats have managed to prevent any big plays against them, but have struggled to slow down opposing passing games. Against Western Kentucky, quarterback Kawaun Jakes missed an open receiver in the end zone on two different plays, costing his team 14 points. While UK was able to escape that game having allowed just three points, it struggled to slow down a passing offense that has experienced limited success in recent years. Last week against Central Michigan, quarterback Ryan Radcliff threw for 295 yards and a touchdown against UK.
On the other hand, Louisville quarterback Will Stein has thrown for 575 yards and four touchdowns in his first two games as Louisville's starter. With a strong arm and a strong pocket presence coupled with his ability to scramble, Stein has been the central focus for UK defensive backs coach Steve Brown.
"He's a champion, he's a winner," Brown said. "He appears to be a hell of a team guy, he's very good as far as not making the foolish throws that some people might make. He's a guy that has great feet so he can beat you, he can get first downs he can get things with his feet and his arm. He's shown a lot of really, really good things and it's going to be a testament to us to not only cover the guys, his receivers, but also when we are rushing the quarterback to make sure we keep him contained."
Senior cornerbacks Randall Burden and Anthony Mosley have never lost to Louisville in their UK careers, and will be playing Saturday to make sure it stays that way. Their experience and veteran leadership will help prepare UK's secondary as they face their toughest test of the season.
Edge: Stein gets the edge based off the first two weeks of the season. He has done more this season to show he is prepared for Saturday's big stage than UK's secondary has. Stein may not put up jaw-dropping numbers in Commonwealth Stadium, but he will turn Louisville's passing game into a weapon against the Cats.
UK head coach Joker Phillips vs. Louisville head coach Charlie Strong
Phillips and Louisville head coach Charlie Strong have more in common than most think, despite coaching opposing forces in this bitter rivalry. The two African-American coaches hired in the same year to coach the two biggest football programs in the state previously worked as coordinators in the SEC. Both Phillips, a former UK player and offensive coordinator, and Strong, former Florida defensive coordinator under Urban Meyer, understand the importance of Saturday's matchup.
"There won't be any surprises," Phillips said in his weekly press conference Monday. "Like I say, it's an in‑state game that will be old‑fashioned, no surprises, just two teams that will try to bloody each other's nose. "
Edge: Phillips, thanks to the experience on UK's roster. No one on UK's roster has ever lost to Louisville, while no one on Louisville's roster has ever beaten UK. That advantage in experience will give Phillips the edge in this coaching matchup.
Overall edge: After slow starts by both teams in 2011, football fans in the Bluegrass could be in store for one of the sloppiest Governor's Cups in recent history. But both teams will enter the game with something to prove and will play on another level due to the magnitude of the rivalry. UK has the edge at home by the narrowest of margins.