The Week One Edge: UK vs. Western Kentucky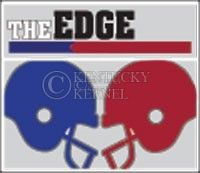 Examining the key matchups in UK's season opener against Western Kentucky:
Rick Minter's defense vs. Western Kentucky running back Bobby Rainey
If Western Kentucky has one star player on offense, it's running back Bobby Rainey. Last season as a junior, Rainey carried the ball a whopping 340 times for 1,649 yards and 15 touchdowns, with an additional 29 receptions for 230 yards. Against UK in 2010, Rainey carried the ball 22 times for 184 yards and two scores, including a 59-yard touchdown run that made the Cats' defenders look like they were standing still.
But those were last year's defenders and that was Steve Brown's scheme. Now enter Rick Minter, better known for his days as Lou Holtz's defensive coordinator, who brings his 3-3-5 defense to Lexington. With Minter's stamp on the defense, the hope is that UK will at the least contain Rainey and control his explosive plays.
One way or another, Rainey will get his touches and get his yards, but if the Cats can make him work for every yard and can limit his breakaway speed, they will have the Hilltoppers' deadliest weapon under control. If the defense can't contain Rainey, Western will have a chance to stay with UK deeper into the game than many expect. Overall, expect Rainey to make plays, but not play a game-changing role against the Cats.
Edge: Rainey, although not by enough to threaten the outcome of the game.
Morgan Newton vs. his critics
New UK starting quarterback Morgan Newton will take his first snaps as "the guy" in Joker Phillips' offense Thursday night. Newton has started games before for the Cats, nine to be exact, but has never had to be "the guy" before. The last time Big Blue Nation saw Newton under center was in January against Pitt in UK's bowl game after 2010 starter Mike Hartline was suspended for the game due to an off-the-field incident. Statistically, Newton didn't perform poorly, but a 27-10 defeat to a team from a weak Big East conference was a blow to the' perception of Newton as a quarterback.
But Newton's teammates and coaches say he has worked hard this offseason to create chemistry with many of the new skill position players on offense, and that he is prepared both mentally and physically to be the starting quarterback for the Cats. The primary thing that could possibly hinder his abilities on the field are Newton's critics off the field.
Fans and reporters will be watching closely to see how Newton performs in his first appearance as UK's definite starter. One tiny mistake, even the slightest slip-up, and the critics will have a meltdown. Upon his first interception in 2011, those same critics may be clambering for a change. But if Newton can phase out those voices and focus on what he has been working toward in his third year at UK, he has the potential to lead this offense to the same heights it reached last year with Hartline and Randall Cobb in the lineup.
Edge: Newton
New faces on offense vs. the Western Kentucky defense
In last season's matchup, UK had little trouble putting up points on the Hilltoppers in Commonwealth Stadium. The Cats now must travel three hours from home to take on Western at a neutral site that will likely feature plenty of open seats at kickoff. UK also will bring a brand new arsenal of weapons on offense with them to Nashville, many of who will be seeing their first significant playing time at the collegiate level.
Western's defense still poses little to no threat to UK talent-wise, but with the Cats' inexperience, it could take them time to get a feel for each other and a feel for the speed of the game. The game with the Hilltoppers will serve as a great opportunity for the offense to figure things out, provided they don't fall behind on the scoreboard. Despite their inexperience, UK's offense is still far more talented on paper than Western's defense, and if they are able to find their rhythm Thursday night, this matchup should be a one-sided affair.
Edge: New faces on offense
Final edge: UK starts off their 2011 season with a win against in-state rival Western Kentucky.