Former Texas Tech coach Leach could be answer for UK offense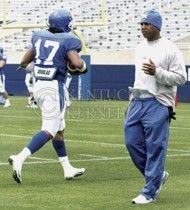 By Cody Porter
After thinking about this for some time and being as optimistic as possible through the last few weeks, I could only think of one statement to sum up my thoughts on the Cats' four game slide.
"There are rich teams and there are poor teams, then there's 50 feet of crap, and then there's us," said Billy Beane, Brad Pitt's character in a scene of the recent film "Moneyball."
Money may not be playing a factor at the moment, but the word "poor" has more than one meaning to it, and the Cats' play of late has been poor in every sense of the word.
Ninety-six yards. That's the total amount of yards accounted for by the UK offense. To put that in perspective, senior safety Mychal Bailey alone had six kick returns for 102 yards.
When diving even further in UK's statistical flaws, junior punter Ryan Tydlacka's 398 yards on nine punts was more yardage than the Cats offense has gained during any one game this season.
The South Carolina offense on the other hand, manned by sophomore quarterback Connor Shaw, racked up 639 total yards.
UK head coach Joker Phillips has spoken of turnovers being the team's handicap as the season has progressed.
While I wasn't under the impression that turnovers were the biggest problem for UK, it was the most pathetic statistic from Saturday's game.
Saturday, UK had more turnovers (six) than it did completions (four) for the game. Morgan Newton, Max Smith, Josh Clemons and Matt Roark all attempted a pass, sometimes on questionable occasions, which resulted in a four of 26 record on the day for 17 yards.
The Gamecocks caught four of those passes for interceptions and managed to maintain possession of two fumbles.
With all that said, the fire under Phillips' seat is trying to "rise" and fans have been given more than enough to help feed it through the weeks.
I've yet to reach the point where I believe people should be calling for Phillips' job, but the offense has yet to resemble anything of past offenses.
Basically, I'm saying I don't know who is going to need to be the scapegoat for these problems, as I, like many, have yet to discover who is in fact calling the plays for UK.
Some say money can't solve all problems, but to that I say "not so fast, my friend."
An offense can be bought, and no, I don't mean by cheating to do it.
A matter of re-arranging staff positions can open up the offensive coordinator position so that the beloved Randy Sanders can stay on the team and continue to mold the Cats' quarterbacks as he has been successful at doing.
The pro-style offense that has been in place for some time has run its course.
It is time to find a new identity and my pitch to do so can keep Phillips in charge and return the one man that Big Blue Nation has been clamoring for since the season has taken a turn for the worst.
The compromise comes in the form of former Texas Tech head coach and one-time UK offensive coordinator Mike Leach.
With the way he had to depart Lubbock, Texas, there is little case that can be made to an athletic director leading them to believe that Mike Leach should be put in charge of a program.
But how about in charge of an offense? I don't see why not.
Both parties can benefit from such a move. Leach will be able to help reinvigorate a program with his offensive scheme, all while adding to his resume for another possible future head coaching position.
Though it more than likely wouldn't be a permanent stop for Leach, it would be long enough for the Cats to prepare wide receivers coach and passing game coordinator Tee Martin to eventually take over the position before his talents are taken elsewhere.
Whether my option is viable or not, I expect a drastic offensive change to be made at least in the short term so that UK doesn't allow Jacksonville State on Oct. 22 to replicate its upset of Ole Miss from last season.