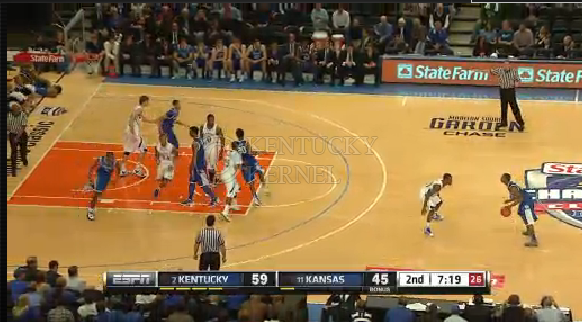 Going inside a play in UK's 75-65 win over Kansas on Tuesday. In this edition, Marquis Teague creates offense from a stalled play.
Marquis Teague has the ball at the top of the key while Darius Miller (bottom left) and Doron Lamb (at the free throw line) run concurrent circles around screens set by Terrence Jones and Darius Miller.
UK is up 59-45 with a little more than 7 minutes to play in the game.
|
|
|
Teague passes to Miller, while Lamb takes a slight pause before resuming his cuts toward Miller's side of the court.
|
|
|
|
Miller passes to Lamb, coming off a screen by Jones. Lamb looks to shoot, but his defender found his way around the screen easily.
|
|
|
|
Lamb gives the ball back to Teague at the top of the key, then races back toward the baseline, around another Jones screen and then, on the opposite side, a screen by Anthony Davis.
|
|
|
|
Lamb gets the ball again near the 3-point line. Essentially, the play has just been reversed to the other side of the court. Again, Lamb is prevented from taking a shot. This time, Davis' defender helps off until Lamb's primary defender recovers.
|
|
|
Lamb gives the ball back up to Teague at the top of the key. About 21 seconds have elapsed since UK pulled in a rebound at the other end, and it's designed play has stalled.
|
|
|
–
Teague takes a few dribbles before exploding into the lane past his defender. Davis had come up to set a screen but only got halfway there before Teague took off. Davis' man begins to help off, seeing that Teague has beaten his man.
|
|
|
Since Davis' man helped off, Thomas Robinson, guarding Terrence Jones, slides down to help in the post against Davis. Jones, hidden behind the score at the bottom of the screen, is left open on the perimeter. A driving Teague is cut off from the basket, but he continues heading toward the baseline before jumping and passing the ball to Jones.
|
|
Jones shot a 3-pointer on 17 percent of his shots as a freshman. He's voiced a conscious effort to cut back on settling on jumpers. On this particular play, Jones has enough open space to justify taking a shot, especially given the lead. But with a defender closing out and a better shooter next to him in Darius Miller, Jones makes the extra pass in a smart decision.
|
|
Miller takes the shot with five seconds left on the shot clock. He's an efficient shooter, as he made 45 percent of his threes last season. He missed this shot, but the possession showcased a few positive things: Teague's ability to create when the original play doesn't work out, Jones' awareness and unselfishness, and the manafacturing of an open look. UK head coach John Calipari said his team forced too many shots when they weren't available. On this play, it was. Even though Miller missed the shot and UK gained zero points, it was productive.
Follow @KernelASmith
or email him at [email protected]