Calipari on being No. 1, starters, scheduling and Rupp Arena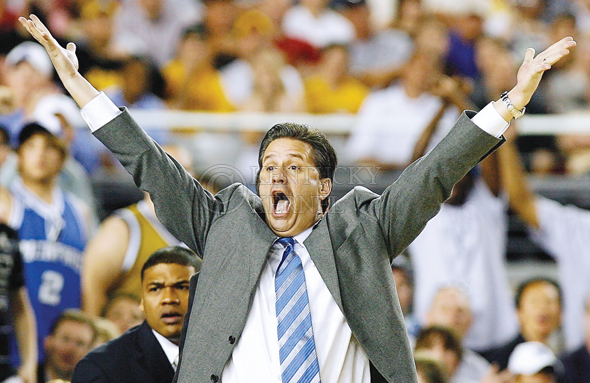 Being No. 1
UK was voted No. 1 in both polls on Monday, and head coach John Calipari is telling his team not to shy away from it.
"I want them to understand, this is not a burden. This is a badge of honor," Calipari said. "Playing here, this is what you're trying to attain. Now, it's not when we want it. But we're there, now let's see how we perform."
Calipari said last week the top ranking would put a "bigger target" on UK. That may be true, but players still mentioned they want to keep an underdog mentality. How does the total opposite of an underdog — the top-ranked team — go about that? Calipari points to the polls.
"Obviously, not everybody thought we deserved to be No. 1," Calipari said. "Thirty percent of the voters voted for someone else. Which is really unusual."
Indeed, No. 2 Ohio State took its fair share of No. 1 votes. And the Buckeyes are coming off a crushing of Duke Tuesday night.
"You had a lot of people saying last night's game decided who should be No. 1," Calipari said.
The last two practices, Calipari said the team went longer than is usual for this time of year.
"I've been on them, tough on them, just raising the bar just to forget all the other stuff," Calipari said. "Forget rankings. We're working on getting better."
These two games can prove UK deserves the No. 1 ranking they inherited after North Carolina lost.
"We have to come out and show people what we're made of," Marquis Teague said. "This is an opportunity to prove we're one of the best teams."
And as for the games being big-time television, Teague said, "That makes it a bigger thing, I guess, having Dick Vitale and all them at the game."
Starting lineup
After UK played Portland, Calipari mentioned how Michael Kidd-Gilchrist came into his office and volunteered to start the game on the bench if needed.
Kidd-Gilchrist said Calipari told him, "We need your energy."
Whether or not Kidd-Gilchrist or Darius Miller starts, the team recognized the gesture.
"It was great character of Michael to go tell Coach Cal that," Anthony Davis said. "Darius has been playing excellent, so he really should be starting some games. But coming off the bench doesn't really affect his game at all."
Calipari again said the two could alternate starting based on the opponent. But he said that this question will most likely persist all year, because none of them are truly a sixth man.
"I wish they all could start," Teague said.
Scheduling
UK may have to cut out an opponent from its non-conference schedule if the SEC goes to 18 league games. Calipari said he wants to remain at 16 conference games, but if it's increased, he will be forced to readjust.
Much of that move would be precipitated by his annually young roster. He doesn't want to over-schedule his team early in the season, and right now, UK is locked into five typically big-time games (SEC/Big East Challenge, Champions Classic, North Carolina, Indiana, Louisville).
"M job isn't to entertain. It's to keep this program where it is, and not put it at risk," Calipari said. "My concern is always going to be my players and this program. Nothing else."
There's also a financial motive. Calipari said that if the recent NCAA proposal to get each student-athlete $2,000 more is passed, that creates an extra financial strain that would be compounded by a lost home game if the SEC adds two games.
Calipari sees the value of these games.
"You need to play these kind of games to figure out, where are we, before January hits."
He just doesn't think it's feasible to add two conference contests and maintain the current out-of-conference schedule that he has.
"These are learning opportunities," Calipari said. "And you can't learn against Popcorn State. You can play those games and you have to fill out your schedule. But you need these games. You just can't play 12 of them. Especially when you have a young team."
Last week, he put up a poll on his website to ask fans which game they would be OK with dropping. Will the results matter?
"No," Calipari said, laughing.
Rupp Arena
Asked if a renovated Rupp Arena could still be the "gold standard" Calipari says UK needs to be, Calipari said it can be. He pointed at the renovated Madison Square Garden as an example of how an arena doesn't have to be rebuilt to be the pinnacle.
But Calipari took a neutral approach on what he thought Rupp Arena should have, saying that he doesn't have an opinion until a final proposal is in place.
"I'm the basketball coach," Calipari said. "I want to make sure whatever my players touch is state of the art and the best in the country. That's what I care about. Now, that it also generates revenue and those other things, that's all good stuff."
Calipari also said that if downtown and campus areas can use the basketball program to improve, that's an additional benefit.
"This campus, if it takes this basketball program to rebuild that campus, then use it," Calipari said. "We need new dorms, we need new classrooms. We need to be about those students, and that's what this entails. And the only way that gets done is if our state legislature understands, the flagship campus has to be invested in. The legislature has to be involved. It cannot be private."
Asked how Rupp Arena measures up in recruiting, Calipari said, "Doesn't hurt us in the least right now. But I can't say that three or four years from now."