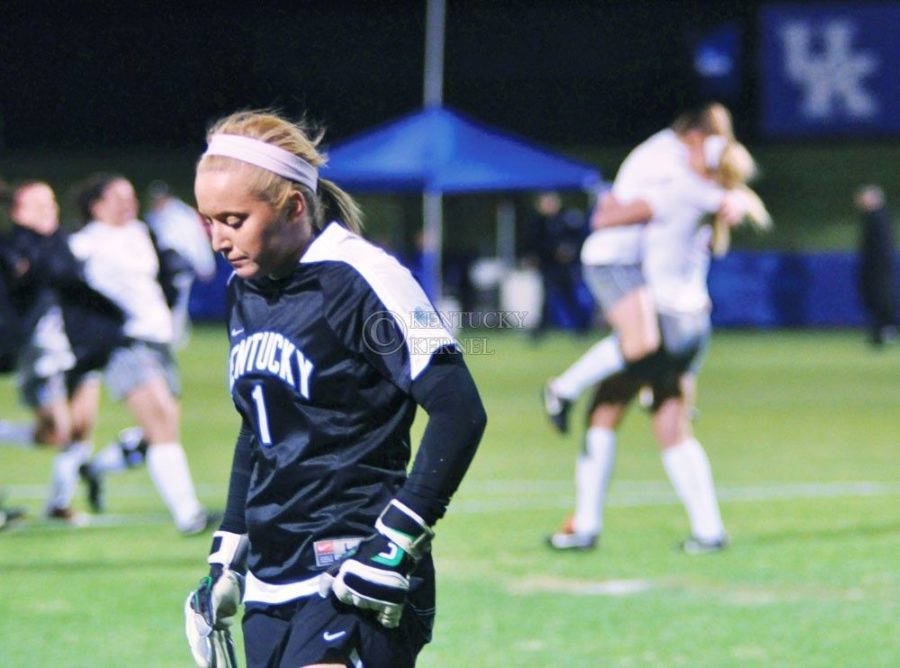 By David Schuh
The UK women's soccer team lost to Washington State in the first round of the NCAA tournament Saturday night.
It was an electric atmosphere at the UK soccer complex, the first time UK had hosted such a game in 12 years.
"It was so special," UK head coach Jon Lipsitz said. "I wanted so badly to get us over the hump. I know people look and say we've come so far in these three years but you always want more.
"I wanted that moment for the players when all that work comes true.
"The fans stood by us and they cheered so hard. They are amazing."
The capacity crowd had reason to cheer early when the Cats drew a penalty kick in the 40th minute off a Washington State handball in the box. Senior Kelsey Hunyadi converted the kick to put UK up 1-0 going into the half.
But Washington State responded quickly in the second half.The Cougars collected a rebounded shot in the 65th minute and found the back of the net, taking advantage of a goalie drawn out of position to tie the game.
Both offenses stalled the rest of the game, producing few legitimate scoring chances.
"They were really fast," senior Kiondra McGee said. "But we were prepared for that. We did a good job of over-shifting and making sure we had a lot of cover to cushion if we did get beat. They got behind us a few times but we also had our chances."
As it has been accustomed to do, UK came out aggressive in the first overtime period. An open shot by Caitlin Landis sailed over the goal and a diving header by Natalie Horner fell victim to a great save by the Cougar goalkeeper to keep the tie.
The second overtime was less exciting, but much of the same, giving way to five penalty kicks for each team to decide the game.
Washington State made its first, followed by UK's Danielle Krohn's shot hitting the inside of the right cross bar and bouncing away.
The Cougars also made their second, while Alyssa Telang's shot sailed over the goal to put the Cats in a hole.
A miss by Washington State and UK's first successful try gave the Cats a ray of hope, but two consecutive makes gave the Cougars the 4-2 win.
The Cats' players and fans stood in disbelief in the waning moments afterward.
"The only people that can feel what this, feel how much this hurts, are the people who put this much into it," Lipsitz said. "It hurts. But we're proud of where we are, and I'm very proud of how we played tonight.
"You always wonder how you'll react to a first time, and I thought we reacted admirably and with great bravery."