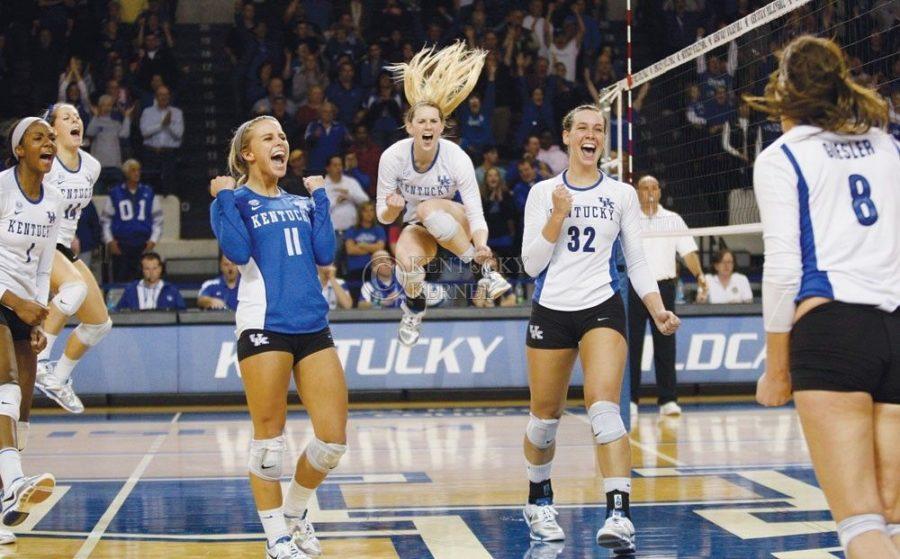 By Paul Martin
UK rallied for a comeback against Arkansas on Senior Day, winning 3-2 (18-25, 26-28, 25-23, 25-21, 15-13).
The Cats dropped the first two sets, but came out of the break with a more aggressive approach to seal the victory.
"What a match," head coach Craig Skinner said. "Those matches are great to win and really tough to lose. Hats off to Arkansas, that was a battle."
The win keeps UK in the hunt for an SEC title, as the Cats improve to 26-4 overall, and 17-2 in conference action.
"I don't think we have been down 2-0 this year, and came back to win," Skinner said. "I'm really excited for these players, because they literally play with no fear. We didn't play great today, but we did when it mattered."
The next game will be in Knoxville against first-place Tennessee on Wednesday night. With a win, UK can obtain a share of the SEC title. The environment will be tough, as the Volunteers look to avenge an October loss in Lexington.
"It will be a really special game," Pavan said. "Some of us in the senior class have been in this situation before and not necessarily come out on top. To have a rivalry game be so big makes it special."
UK will enter that match with more confidence from its comeback win against Arkansas.
Arkansas would not back down at any point, making life difficult for the Cats. The Razorbacks were led by junior outside hitter Jasmine Norton, as she tallied 27 kills for the game. Sophomore setter Raymariely Santos also helped with 61 assists, as most of those went Norton's way.
"They are an NCAA tournament team, and I think they deserve to be in the tournament," Skinner said. "They are very talented and can beat a lot of teams. For us to come out on top today was a great accomplishment for the seniors."
The Senior Day activities celebrated the careers of Ann Armes, Becky Pavan and Gretchen Giesler. All three players contributed to the win. The trio combined for 24 kills and provided a much-needed boost late in the game.
"We have been in this situation before, and I think we deal with it really well," Pavan said. "I felt as though we were going to win this game. I never doubted that our team could do it."
Sixteen lead changes on the day made for some tense moments, but in the end the leadership and experience gave UK the advantage. Giesler made multiple huge plays down the stretch to frustrate Arkansas's defense.
"If you have 14 kids really pulling for each other you can get through tough situations, and that was definitely evident today," Skinner said.
These seniors won yet again, adding to the fond memories accumulated over the past four seasons.
"It's emotional to see all your fans and everybody that has supported you," Giesler said. "We have a really great fan base."
Skinner has appreciated the seniors' efforts, as the Cats have become a consistent winner with their help.
"It's emotional, you feel like they are part of your family," Skinner said. "You know a lot about their families and backgrounds, and they have left a big piece of themselves with this program."