Don't overlook the defense when assessing UK's chances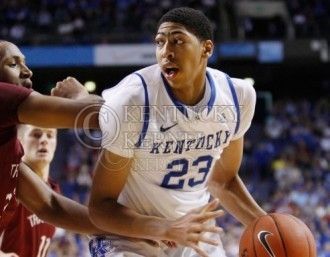 After UK dropped 125 points on Morehouse Monday, head coach John Calipari wasn't going to watch tape for the offensive firepower on display.
No, Calipari was going to show his players how they played "terrific defensively," how they stayed in a defensive stance, how they kept pressuring the ball.
For all of the attention paid (with good reason) to UK's offense — make that Calipari's offenses — it's the defense that makes Calipari's teams hum.
"If we're to be what everybody thinks we are," Calipari said before the season, "we're going to have to be special defensively."
He has a tendency to get his teams to play special defense. In the past six seasons, Calipari's team has been in the top 15 nationally in tempo-free defensive efficiency. In that same time span, his team's offensive efficiency has been ranked in the top 15 three times. Only once has his offense ranked higher than his defense.
"We've never been as good as everybody wants to say offensively," Calipari said.
It's not by accident. It's why it killed him when both teams topped 100 points in the Blue-White scrimmage, and why the only thing he could talk about after the win over Transylvania was the lack of defense. Calipari loves defense. It's gritty, tough, physical, demanding — all those tangible qualities Calipari loves his players to have.
The good news: this UK team has plenty of those characteristics — and plenty of athleticism and talent to go with it. It starts with freshman Marquis Teague, whom Calipari calls a "pit bull" on defense, on the ball. Freshman Michael Kidd-Gilchrist has a passion for defense most players his age don't have and envisions himself as akin to DeAndre Liggins. And freshman Anthony Davis can swat shots when opponents get close to the basket.
With the amount of talent defensively, Calipari can tinker. Traditionally, he exclusively plays man-to-man defense. But he's shown early on that he is committed to working on a full-court press, and he's consistently tossed out the idea of going to a zone defense despite his career-long objection to that style.
Whether he goes to it, and for how much will be shown throughout the season. It's easy to see, though, why he's attracted to the idea. Put the 6-foot-11 Eloy Vargas in the middle and 6-foot-10 Davis and 6-foot-9 Terrence Jones on the wings, and teams aren't getting shots off. And with Kidd-Gilchrist and Teague on the ball up top, and teams will struggle to even pass the ball.
"I hate to say this," Calipari said. "We look like we may be a pretty good zone team when I go big on this team."
Calipari said he doesn't anticipate using a zone defense as anything more than a "change-up defense," because to get really good at it teams need to play it all the time, as Syracuse does with its famous 2-3 zone.
"There's not one system to this," Calipari said. "It's about getting good players, who come together, and play, and care about one another, and understand that together, great stuff happens."
The new style isn't the only new aspect of defense Calipari is seeing this year. Usually, he has to draw the willingness to play defense out of his team.
"You've got to demand that if you don't defend, you're not playing," Calipari said. "If you're breaking down defensively, I'm immediately taking you out of the game."
This team seems to be naturals at committing to suffocating defense, which means they'll likely be right back at the top of the best defenses in the country.
Just how Calipari likes it.