In perfect harmony: Twins studying opera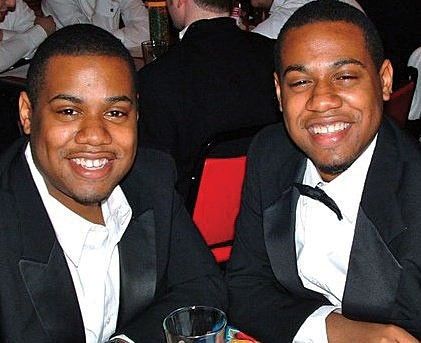 Two U­­K twins, Kaymon and Keymon Murrah, not only share similar names, but are both studying to be opera singers.
The two Louisville natives are busy with their major as well as creating an ensemble group.
The brothers recently created their own group for spring 2011, called Spiritual Ensemble.
The group was created to incorporate all aspects of African-American music, mainly focusing on spirituals, which are slave songs, Kaymon Murrah said.
The 12- to 15-member group will make its debut in the Spring Concert in 2012, Chavea Clay, the Spiritual Ensemble vice president, said.
"The ensemble is not limited to just African-American people," Clay said. "The group is mixed with different nationalities and all kinds of majors."
The Murrahs' fascination with music came from their mother, who played classical music throughout the house when they were young boys.
The two started off playing the saxophone in the band, and they noticed they should pursue their music career while in high school, at DuPont Manual Magnet High School, which offered skills in performing and visual arts.
There, they joined a choir and began singing.
But they did not always sing opera. Kaymon added that their teacher, McDaniel Bluitt, "gave us arias just to sing and from that we grew."
It hasn't always been an easy road for the two. Kaymon said he has encountered some disadvantages, for example majoring in opera means he will be in college longer.
"It is not overnight success," Kaymon said. "Your whole life is going to be a competition."
Keymon said in opera you have to love what you do.
Kaymon and Keymon said one of their dreams is to become successful enough to perform and create their own arts academy for underprivileged kids.
They also want to expose more people to a different style of singing, Keymon said.
"We want opera to take us to the top and we want to be well known in what we are doing," Keymon said.
Cynthia Lawrence, their vocalist teacher, said the brothers can continue improving.
"Kaymon and Keymon are earnest young men who have yet to tap into their full potential," Lawrence said.
She said it is exciting to work with them.
"They work well and they always have a plan," she said. "They believe in their heritage."
Lawrence said the brothers believe in representing spiritual music about the community, and their goal is bringing that to other students.
"They have tremendously good voices, but still need to learn the ropes," Lawrence said. "I have no doubt that they'll be successful in whatever they choose to do."
Clay said the Murrahs are good friends of hers.
"Kaymon is really good at teaching the group and playing the piano music for us," Clay said. "Keymon and I work closely together to get the business side of things done and we work well as a team."
Clay said she loves singing with the group.
The group meets every other Saturday and plans on caroling for the children's hospital, she said.
Clay said the group wants to do some recruitment, and one of their goals is to be a part of the Choral Ensemble and travel.