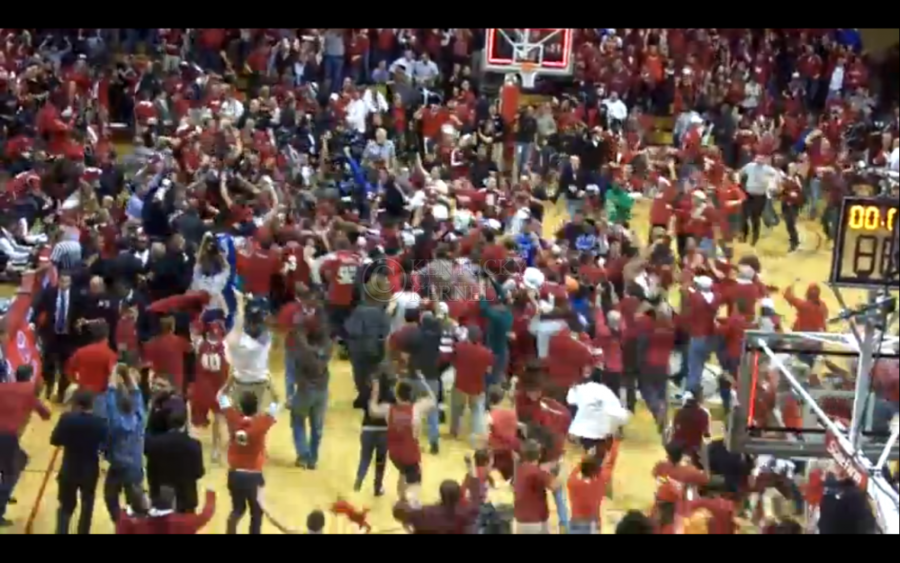 The five UK players gathered themselves and walked the length of the floor as hundreds of Indiana fans streamed down from the stands, the court disappearing under the swarm of red.
Stunned by a buzzer-beating 3-pointer.
Doron Lamb called it a "lucky" shot after the game, but lucky was the last thing Christian Watford's game-winner was. It was an open look and the result of UK not fouling, despite head coach John Calipari's repeated directions in the huddle immediately before the play unfolded to foul.
"I have no idea what went through our minds," Calipari said.
That was how the night went for the soon-to-not-be-No. 1 team.
Indiana had what it needed for an upset "everyone will remember," head coach Tom Crean said. The crowd, sizzling with potential energy. The barrage of 3-pointers, making 60 percent on the night, including that final, explosion-inducing game-winner.
UK didn't have what it needed. Indeed, the Cats had everything that has plagued them this season. A slow start. Execution breakdowns. Poor free-throw shooting. Until now, UK had enough to overcome it. Saturday, it didn't.
A young team was rattled in the first half and melted down through most of the second. The young team looked genuinely shaken.
It didn't have its point guard for the entirety of the first half, as Marquis Teague scored zero points. Calipari put him on the bench to start the second.
"He was ancy to start. I even told him that. I expected that. You're at home, have the fans on you, want to prove yourself."
It didn't have Terrence Jones, ever, who finished with four points on three shots, one rebound and six turnovers.
"He absolutely gave us zero today," Calipari said.
And it didn't have the free throw shooting to close out once it did come back, as Anthony Davis, a 54 percent free throw shooter coming into the game, and Doron Lamb, an 89 percent free throw shooter, each missed the front end of a one-and-one in the final minutes.
"I wish (Davis) would have made one extra pass to Michael (Kidd-Gilchrist," Calipari said. "And I was more surprised that Doron missed. If you want to have someone on the line, that's who you want."
So UK did not win. It ceded the winning 3-pointer by totally failing to execute what it's coach told it to do, and that's a concern. But this upset didn't come from nowhere, as evidenced by the amount of picks from the media going against the Cats.
UK wasn't going to end up undefeated anyway. It played poorly enough, on the ninth game of the season, to lose for the first time. There are about 30 more to potentially play. And probably more losses, too.
It isn't cause to be overly distraught, not when UK was going against the combination of a solid team and a frenzied arena. Miller admitted the players weren't ready for it, even though they had tried to prepare all week. And UK still had control of the game, really, when it came down to the end.
The comeback was largely propelled by Michael Kidd-Gilchrist (18 points, nine rebounds) and Lamb (19 points).
"I thought Michael was just a beast," Calipari said. "If I watched this game, I would say, he's their best player. He's their guy. He fought for everything."
UK also received intermittent bursts from Miller and Teague in the second half.
"We just needed one more guy to step up," Calipari said.
Instead, five guys stepped out, as hundreds ran down.