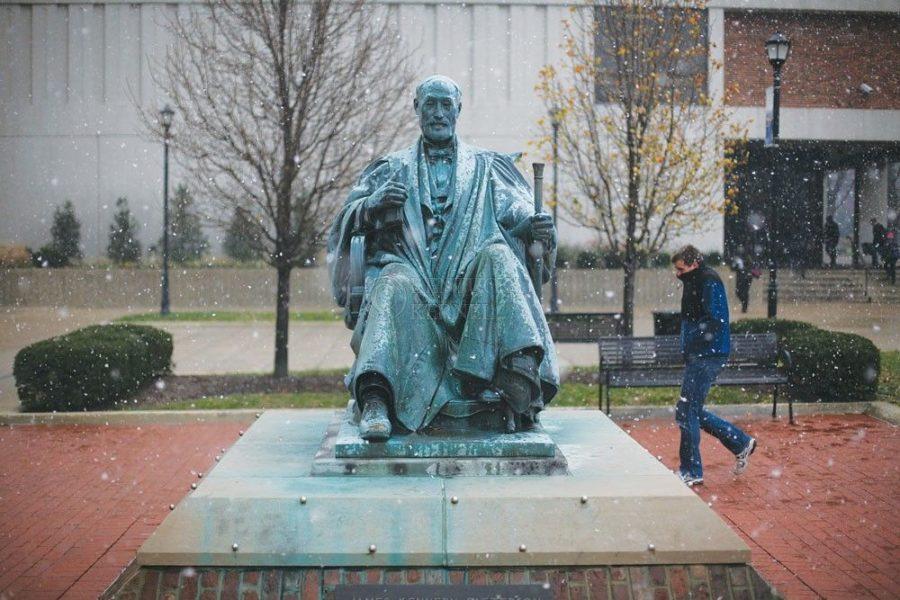 By Joy Priest
When showing new students around campus, tour guides make sure to stop at the James Kennedy Patterson statue because much of UK's history lies within the bronze monument of the university's founding president.
"It's such a tradition, especially because we always tell them to rub the foot for good luck," said Katherine Weiss, a tour guide for the visitor's center.
It is tradition to rub Patterson's visibly tarnished right toe for good luck before finals, Weiss said, which makes sense because Patterson had a reputation for being a staunch academic and was not very popular among the student body.
"He actually was not well-liked by students on campus when he was president and was subject to pranks," Weiss, a sophomore, said.
One of the most memorable pranks played on Patterson on record is the infamous painting of his horse.
Frank Stanger, a reference archivist at UK's Special Collections library and a biographer of Patterson, describes him as a "stirring disciplinarian" and confirmed this tale.
"There are documented stories of students playing pranks on him and he didn't react to them well," Stanger said. "He lived in a house on campus, which was where the east end of the classroom building is now … he kept a horse and one night a bunch of students came and painted his horse green."
Stanger said Patterson's second-floor class, in what is now the Main Building, was interrupted when the students came strolling in with his horse painted green.
Although student lore holds that Patterson didn't have the best personality, history tells a bit of a different story.
"(Patterson) was instrumental in saving the university financially," Stanger said. "He put some of his own money forward for supporting the school when the legislature refused to enact a statute for establishing a tax for money to support the school."
It is also true that the longest tenured president in UK's history (Patterson was president from 1869 to 1910) was also responsible for increasing enrollment from five or six students in 1866, when it was the Agricultural and Mechanical College of Kentucky, to 1,000 at the time of his retirement in 1910, Stanger said.
"He kept the university going," Stanger said, and according to Weiss, he "donated his life savings to the university" upon his death.
So, next time you plan on pulling off a prank on the Patterson statue, or stand wondering why his face is so surly during one of those brilliant icebreakers that your professor has decided to pull on the class, remember, if it wasn't for Patriarch Patterson you wouldn't be here.
"The true past departs not," reads the statue.