John Calipari unhappy with 22-point win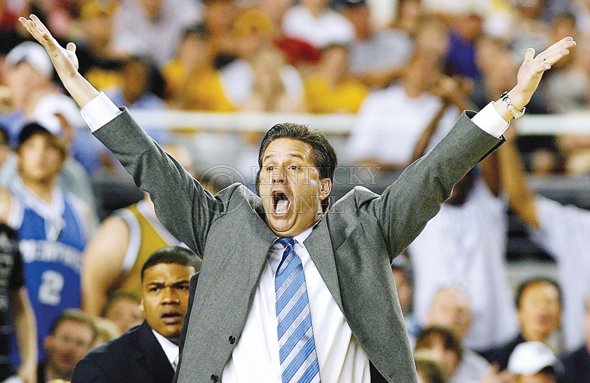 John Calipari was upset, again, after a big win.
"I'm not very happy," Calipari said after UK beat Lamar by 22. "Do I seem happy?"
No, he did not. His words were incisive and his tone was annoyed.
Now, Calipari usually falls more on the "point out things wrong" spectrum. He's a coach, and he knows how good this team can be, and he's pushing for perfection. But his post-game press conference this time around was a little different.
His sense of frustration is compounded by remembering his aggravation before the break, too. He said Christmas came at a good time, because he was "fighting" his team too much.
He kept up the fight after beating Lamar. He called out Terrence Jones for his lack of effort. He called out Marquis Teague for regressing in how he ran the team. He called out his team's turnovers, and their toughness, and their excuses. These are all common problems, common refrains. But the players haven't answered the call.
"We are not changing (bad habits)," Calipari said. "And that's what's frustrating me."
Calipari said this team has to start listening, that players like to say how "real" Calipari is with them until the "realness" gets pointed their way.
"Oh, you want me to tell the truth?" Calipari said. "Well, let me tell you the truth. We either cure this or we are going to start taking L's [losses]."
So far, UK has only one loss, an Indiana road game that's now in the mirror after a four successive heavy defeats of mediocre teams. When asked if the mid-December cupcake stretch was working against his team in a way, Calipari paused before saying he'd rather learn from wins than take a loss.
But the learning still has to happened. It hasn't yet at an acceptable rate. So Calipari won't let up.
"I'm not babying these guys," Calipari said. "This team should be playing better than we are playing."
However, the players afterward didn't seem too concerned. Doron Lamb and Marquis Teague exited the locker room to come to interviews dancing. When told of Calipari's unhappiness, Jones agreed, and then said: "He's not happy too much of the time."
Maybe he should be. Lamar head coach Pat Knight couldn't compliment UK enough, saying that the Cats have no weaknesses.
"This is a special team that could get Coach Cal his first championship," Knight said.
Knight was using that sentence to support his argument that Calipari is just finding ways to pick at his team's minor flaws, but it's the exact same reason why Calipari is so urgently frustrated: he knows this is a special team that could get him his first championship. He also has three months to make it happen.
"At some point you've got to get stepped on and be stepped on good," Calipari said, "so that you understand what we are trying to say."
Calipari wants improvement across the board. Every player has something to work on. And if every player gets to the where he should be, the team as a whole will naturally follow.
But the individuals aren't there.
Calipari wants people to look at his players and "say wow."
"Are you saying that right now?" Calipari said. "No. And that frustrates me as much as anything else."