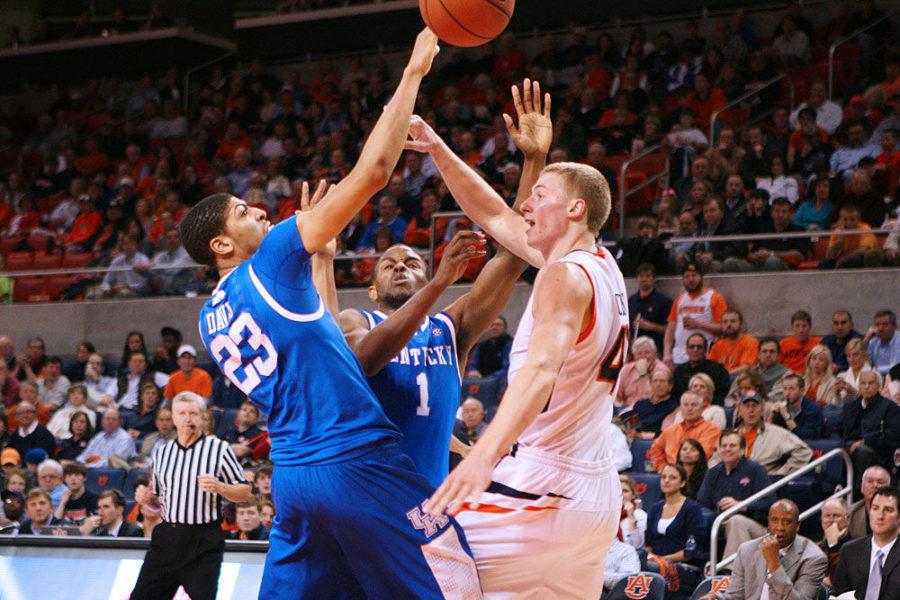 Three things to watch for when UK travels to Tennessee on Saturday:
1. Anthony Davis is closing in on multiple school block records — The swat machine has 78 blocks, one away from tying Jamaal Magloire's single-season freshman record and five away from tying the overall single-season record, shared by Melvin Turpin and Andre Riddick.
And remember: He's done this in 17 games. It took Riddick 34 games, Turpin 31 and Magloire 40.
The only question: will he break one or both records at Tennessee? He's averaging 4.6 blocks per game but has five games with six or more blocks.
However, the Volunteers aren't the most block-prone team. It only gets blocked 2.7 times per game. Then again, they have yet to encounter a man like Anthony Davis.
2. A (bigger) road test — Tennessee represents a step up from Auburn on the mythological "road challenge scale." Even though Tennessee is worse than usual — an 8-7 record — the Volunteers will have a better environment and a better chance of beating UK in its second conference road game.
Tennessee beat Florida at home last week, so the team knows it can topple a ranked opponent. The Cats hope they learned what it takes to succeed on the road from its uncomfortable win against Auburn.
A particular area that Tennessee could use to pull off the upset? Offensive rebounding. The Volunteers are a pretty good team on its own boards, pulling down 33.9 percent of all available rebounds. UK got killed on the boards by Auburn for all but the closing minutes. It needs to take the late-game tenacity and apply it from the opening tip.
3. Michael Kidd-Gilchrist's production — The freshman forward has seen a slight dip in production. Since he recorded 24 points and 19 rebounds against Louisville, he's had a combined 25 points and 19 rebounds in the past three games.
He scored less than 10 points in each of those three games, something he had only done twice before this season. And on those two occurrences, it was because of foul trouble — he played 22 and 19 minutes in those two games. The last three games, he's played 31, 37 and 30 minutes.
Kidd-Gilchrist deserves credit for maintaining his customary energy and effort through the slight scoring swoon. He provides a lot more to the team than just points and rebounds, and he's continued that.
But he's still UK's second-leading scorer (13.2 per game) and rebounder (7.5). See if he can have another breakout game against Tennessee.
Follow @KernelASmith
or email him at [email protected]