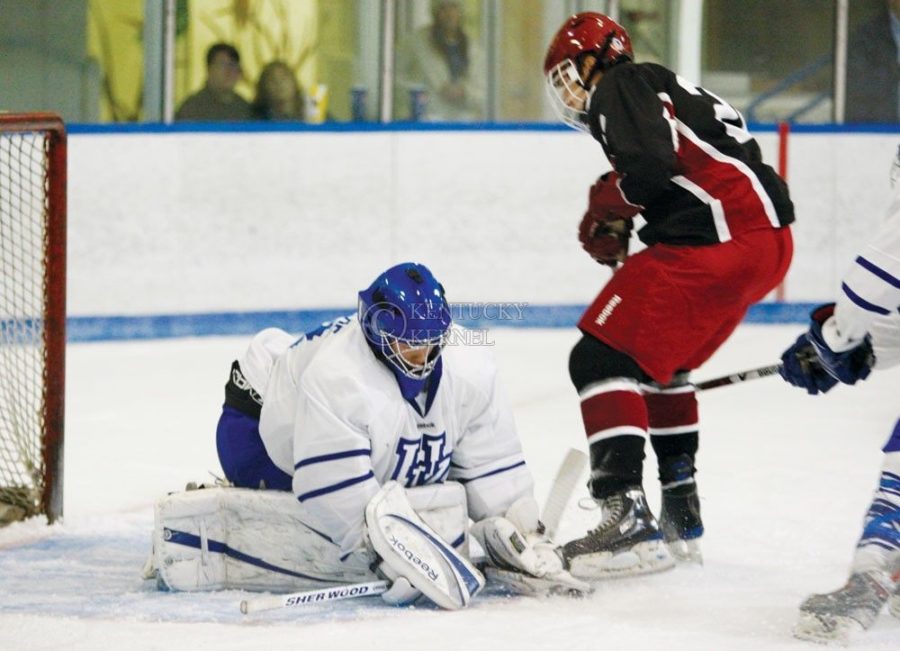 The Cool Cats faced off against Illinois this weekend, splitting a pair of games by scores of 4-2 and 0-5.
Saturday night's action was the least impressive of the two outings, as UK was outshot and outplayed for the majority of the game.
UK managed 22 shots throughout the game, compared with Illinois' 59. "We got outworked," senior captain Billy Glass said. "But it helped that we won last night (Friday), so we have that to build on going into the Showcase next weekend."
The first period went fairly smoothly for the Cats. Both teams played physically and generated many scoring opportunities on both sides.  There were times where UK hesitated on open looks at the net and failed to capitalize on key chances, missing the net or turning the puck over in the slot.
UK was able to stay in the game through a stellar first period performance by sophomore goalie Aaron Tenfelde, who stopped all 18 Illinois shots. At one point an Illinois pass to an open man in the slot caught Tenfelde out of position, but he was able to stretch out and make a spectacular save with his glove.
The second period started with neither team having the upper hand as the score was tied at 0. However, UK couldn't stay out of the penalty box, resulting in two Illinois power play goals.
UK was out-hustled throughout the second period, as Illinois threw a two-man forecheck at them. They also had trouble breaking out of the defensive zone, resulting in turnovers and scoring opportunities for Illinois.
"I thought we worked with them; they are a hungry, quality team," head coach Rob Docherty said.
"They won more battles for loose pucks. We worked with them but we gave it away in the second," Docherty said.  "The game lasts for 60 minutes, and we have to play all three periods."
The third period saw more of the same from UK's offense, as they struggled with penalties and couldn't seem to find the back of the net on scoring opportunities.
However, UK played physically in the third period which was keyed by a monstrous hit from freshman forward Charlie Hales, who barreled into an Illinois winger and planted him flat on his back near the boards.
Though it was a tough loss for UK, the team will look at it optimistically.
"We're not going to get down on ourselves for the loss," Glass said. "We're just going to see what we need to work on, and bring that into the showcase next weekend."