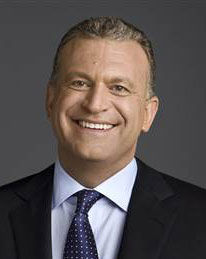 By Rob Ellery
The "30 Million Jobs Tour on The Dylan Ratigan Show" began its college edition at the UK Wednesday.
"UK really laid down the mark," said Steve Friedman, executive producer of "The Dylan Ratigan Show."  He said, "The challenge is on for Ohio State and the University of Chicago to see if they can top UK."
Students, faculty and the Wildcat mascot gathered in the atrium of the Bio-Pharmacy building at the College of Pharmacy for the live broadcast from 4 to 5 p.m.
The energetic crowd joined the Wildcat in a C-A-T-S chant for the show.
Ratigan's first guest was Rebecca Christopher, a recent UK graduate. Christopher discussed how she landed a job with Corning Glass.
"You have to be able to show that you can work with others well," she said.
Christopher explained that UK was helpful in her job search and advocated the importance of showing a company what you have to offer.
"I sold myself," she said. "You need to show that although you haven't done it before, you are capable of doing it."
Charles Purdy, senior editor of Monster.com, joined Christopher on the show and said that companies hire for what you will be able to do for them in the future.
"My best advice is planning for the long-term future," he said.
Purdy explained that no one could have predicted having jobs in social media or creating apps 30 years ago.
Ratigan said that his advice for graduates was "very simple." He advocated the importance of working with others.
"The single most valuable skill is the ability to adapt," Ratigan said. "You develop this by being forced to solve problems in a group."
He said students should approach their job searches by asking, "What need can I help fix in this community?"
Michael Bellmore, a social work junior, was pleasantly surprised to find out the show was coming to UK. As a fan of the show, he thought that Lexington was a great choice.
"It shows that Lexington is a very promising city with a lot of booming technology," he said.
Ratigan was also happy with his stop at UK.
"I loved it," he said. "I love the sense of community that exists in a place like this."