Nerlens Noel reclassifies to 2012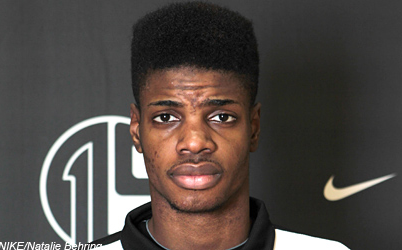 Nerlens Noel, one of the top high school recruits in the nation and a UK target, has reclassified to the Class of 2012, according to ESPN.
That sets up a potential windfall for UK if the recruiting chips fall correctly.
UK is currently targeting Noel along with Shabazz Muhammad, who are now the two clear-cut best players in the Class of 2012.
If UK lands those two, it could form one of the best recruiting classes in history — one that could perhaps be even better than anything John Calipari has landed yet, and that's saying a lot.
Restocking with those two, along with the other players currently in place, would help mitigate the damage from an expected mass exodus of players to the NBA after this season.
Noel, who was originally in the Class of 2012 before moving down a year after an injury, is right up there with Muhammad for the top overall prospect in the class. Muhammad had previously been considered the clear gem in the class.
"In my opinion, yes," tweeted CBSSports.com recruiting analyst Jeff Borzello, in response to whether Noel will be the No. 1 prospect in his new class. "Best shot-blocker I've seen in years, offensive game is rapidly developing."
Noel is considered by many to be one of the best shot blockers ever — even better than Anthony Davis.
"Nerlens Noel would be the most dominant shot-blocker in college right now," CBSSports.com's Jeff Goodman said.
Noel told ESPN that seven schools — UK, Syracuse, UConn, Providence, Florida, Georgetown and North Carolina — were possible targets, but two stand out.
"I've long thought Syracuse and Kentucky were in best with Noel," Borzello tweeted. "His first visit is to Syracuse. Still think those two will battle it out."
or email him at [email protected]