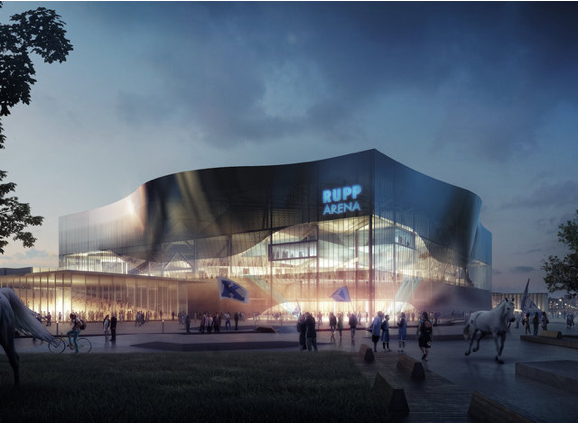 By Drew Teague
Mayor Jim Gray's Rupp Arena, Arts and Entertainment District Task Force issued its final proposal for Rupp Arena's renovation on Tuesday morning.
The task force has been working on the proposal for the last 10 months. It found that Rupp Arena should be renovated for $250 to $300 million, instead of building a whole new home for UK's men's basketball program, which would cost more than double the amount.
The notable renovations to Rupp include no loss of seating, the upper arena getting chairback seating, and the addition of suites and club seats.
With the task force suggesting such large renovations, the question of funding comes into play.
"The initial funding recently proposed by Gov. Steven Beshear is critical to keep moving with economic/financial analysis and developing the full Business Plan," according to the report. "Possible major funding sources include new revenue from premium
seating, advertising, sponsorship, concert/event promotions, concessions and parking associated with proposed plans."
The task force's plan would create a new convention center in the Cox Street parking lot, so Rupp would be detached.
The city would be a mirror, reflected on both sides at Rupp Arena, which would be the center of the expanded downtown area.
"The renovation will maintain the historic character while maintaining the gold standard that is expected of Rupp Arena, both architecturally and symbolically," according to the report.
After the task force's report was released, UK President Eli Capilouto issued a statement.
"Our position has not changed," Capilouto said. "Our steadfast focus has been — and will continue to be — the revitalization of our campus core."
Capilouto is concerned about state funding, some of which could be taken away from campus needs, which could cause student tuition to rise.
"We have concerns about anything that competes for state dollars with that focus," Capilouto said. "Everyone needs to clearly understand the specifics of what the proposed Rupp Arena, Arts and Entertainment District will cost and who would ultimately pay for it."
The outside boundaries for the proposed entertainment district are Oliver Lewis Way, Short Street, Broadway and High Street.
Proposed improvements for Rupp:
• "Create a better atmosphere for recruiting and fan experience"
• Suites
• Club/lodge seats
• New support space for media, team locker room and player families
• New technology
• New sound system
• Proper space to entertain guests for the city, UK president and athletic director
• 100,000 square feet of convention space
• Better connections to campus
• All chairback seats
• Maintain seating capacity
• Home games continued without displacement